Disclosure: We may get commissions for purchases made through links in this post.
A ship is simply defined as a vessel larger than a boat used for transporting goods or people by sea. There are many different classifications of ships used for different purposes. In this article, I'll list the 11 most common types of ships.
The full list of 11 different types of ships are as follows:
Passenger Ships
Tanker Ships
Container Ships
Naval Ships
Special Purpose Ships
Bulk Carrier
Offshore Ships
Fishing Vessels
Dredgers
High-Speed Crafts
Ro-Ro Ships
Although there can be other names for different types of ships used around the world, these 11 types of ships are the most common.
Read on to know more details about the different types of ships and the features of each ship.
Types of Ships – Full List of 11 Different Types
1. Passenger Ships
First, on our list of different ship types are passenger ships. If a watercraft can carry over 12 passengers, it is already classified as a passenger ship. These vessels are strictly required to follow inland water and sea travel regulations. Strict compliance with these maritime laws is the response of governments worldwide to curb maritime disasters involving passenger ships.
Passenger ships have two general classifications: ferries and cruise ships.
Ferry – This watercraft is used for transporting passengers on short distances.
Cruise Ship – This sea-going vessel is mainly used for leisurely travel. Most of these ships travel to selected tourist spots around the world. Cruise ships compete with each other by offering passengers high-quality entertainment, hotel-like accommodation, and a wide range of foods and drinks.
Cruise ships are further classified into several cruise ship types, and they are:
Cruise ships, liners, pilgrimage ships
Arctic and Antarctic cruises
Coastal ferries, harbor ferries, and channel ferries
2. Tanker Ships
Tanker ships are designed to transport vast quantities of liquid cargo. Most tankers carry oil, but some also carry chemicals, water, and even wine. These ships come in various sizes. Some can carry hundreds of thousands of tons of liquid.
Tanker ships are classified into several tanker ship types:
Oil Tankers – Ships that transport oil
Chemical and Product Carriers – Ships that transport liquid chemicals and other liquid products
Liquefied Gas Carriers – Ships that carry liquefied gas, such as LNG and LPG
Others – These are tankers that transport wines, juices, integrated tug barges, and other commodities
Tankers are also categorized according to their sizes:
Capesize
Suezmax
ULCC
VLCC
Handy
Lighters
Handymax
Aframax
Panamax
3. Container Ships
Third, on our list of ship types are container ships. Container ships are built to accommodate and transport huge amounts of cargo. These cargos are housed in metal containers that are arranged or compacted on the deck of the ship. Also, these ships can transport thousands of containers per trip.
Some container ships only have one deck, while others have multi-decks. These ships play a crucial role in international trade as they transport all kinds of items, including machinery, metals, furniture, clothes, food, and many more.
Container ships are also further classified into the following sizes:
Suezmax
Panamax
Post-Suezmax
Post-Panamax
Post-Malaccamax
4. Naval Ships
A ship designed for military service is called a naval ship. Naval ships are built differently from civilian ships, mainly because of their intended use. In general, these ships are armed with weapon systems. They are also made with stronger materials so that they can resist damage from outside forces
There are naval ships specifically made for naval warfare, and they are called warships. Ships made for support functions are called auxiliary ships. These ships are intended only for shipyard operations and seldomly used for troop and armament transport.
5. Special Purpose Ships
These ships are designed for special purposes. The different types of ships in this class include the following:
Ice Breaker Ships – These vessels are used to cut or break ice deposits in severe cold climate conditions so that water vessels can navigate through.
Research Vessels – These special ships can carry out various sea research. The most commonly known research ships are called polar ships, oceanographic ships, hydrographic ships, and seismic ships.
Salvage Vessels – These types of watercraft are designed to undertake salvage operations. Salvage vessels are mainly used to recover lost precious items at sea.
Tugs – These ships can move or maneuver other ships by towing or pushing them.
Barge Carriers – These ships have flat bottoms. They are primarily built for transporting heavy items in a canal or river.
Livestock Carriers – These water vessels are used to transport animals or livestock to the market.
Timber Carriers – These ships transport logs or timber.
Cable Layers – These vessels are used in laying cables on the sea bed.
Lightships – These ships are used as lighthouses in the middle of the sea. They are stationed in deep-sea waters that are too deep for the construction of a conventional land-based lighthouse.
Pilot Crafts – These water vessels are designed to transport harbor pilots.
6. Bulk Carriers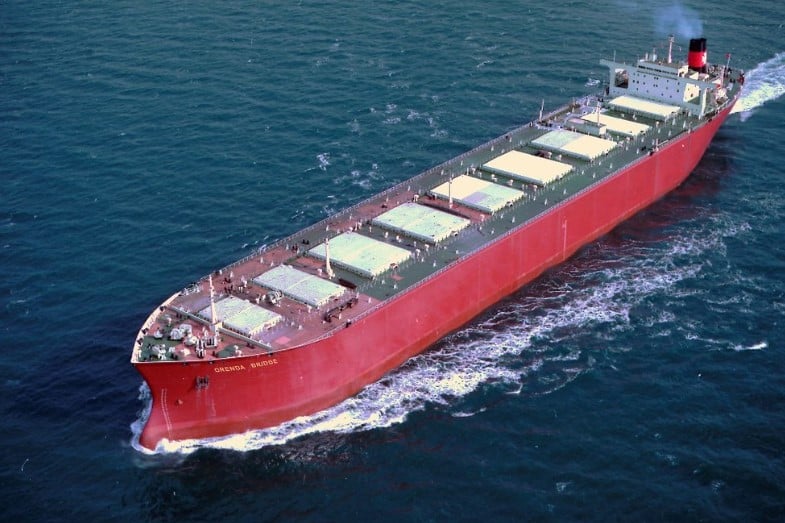 Bulk carriers are large ships used in transporting cargo, mainly dry cargo, in huge quantities. These cargoes are generally loose and are not individually packaged. Such goods include coals, ores (metal), cement, food grains, and many more.
Bulk carriers are also classified into the following ship types:
Conventional bulker
Self-discharging bulker
Lakers
Gearless bulker
Geared bulker
BIBO
Maritime shipping has designated some items as dry cargo, which bulk carriers can also carry. These bulk carriers are called:
Cargo Liners – These ocean liners are designed to carry passengers that are classified as dry cargo. For instance, a transatlantic voyage transporting passengers from America to Europe can be called a cargo liner.
Tramps – These ships do not use published ports of call and fixed schedules of the voyage.
7. Offshore Ships
Offshore ships are those used in oil exploration. They are also used to transport goods and people for construction projects at sea. There are different classifications for offshore vessels. The different types of ships in this category are:
Drill Ships – These ships are used in exploratory offshore drilling. Geologists and scientists aboard these ships are looking for new well deposits either for scientific drilling or for commercial purposes.
Semi-submersible Drill Rigs – These ships are mobile offshore drilling machines that build stable and sturdy platforms for oil and gas drilling operations.
Diving Vessels – These are the class of ships used by divers as they accomplish their underwater jobs in the sea.
Supply Ship – These are ships that supply goods and materials to offshore rigs.
Floating Production Storage and Offloading (FPSO) – These vessels function as storage units. There are also offloading vessels used in the gas and oil industry that produce and process hydrocarbons, including oil storage.
Floating Storage Unit (FSU) – These vessels are used solely for storing oil and its by-products.
Accommodation Barges – These types of watercraft are used to accommodate people and cargo. They can also be used as stand-alone floating hotels.
Pipe Layers – These ships are used by pipe and cable workers to lay pipes and cables underwater.
Anchor Handling Vessels – These vessels are designed as service transport for employees of companies undertaking the building and installation of ocean-based projects.
Production Platforms – These ships are used in the extraction and processing of natural gas and oil. They can also be used as temporary storage units of oil and gas until they can be transported to shore for refining, processing, and marketing.
Crane Barges or Floating Cranes – These ships are equipped with huge cranes designed to lift heavy loads.
8. Fishing Vessels
These vessels are averaged-sized ships that are primarily used for catching fish and other marine wildlife. Aside from commercial fishing, they can also be used for leisure cruising. Thousands of fishing vessels are being used to catch fish for personal or commercial purposes all over the world.
The International Maritime Organization (IMO) has a shocking statistic related to fishing vessels. It claimed that approximately 24,000 fishermen die on fishing vessels each year. It's the reason why there is a requirement for all fishing vessels to install an ECDIS on their ships. The ECDIS can be used by fishing vessels to navigate international waters and avoid inclement weather safely.
There are two general classifications of fishing vessels. They are:
Factory Ships – These ships function as fish processing vessels. They are big ships with all the necessary onboard facilities for the freezing and processing of all sizes of fish, including whales.
Purse Seiners/Trawlers – Fishing trawlers, also called draggers, are commercial fishing vessels that can operate as pure trawlers. A fishing method that involves active pulling or dragging a trawl through the water is called trawling. In this operation, one or more trawlers will do the dragging of the net.
A purse seine is a big wall of netting that surrounds the entire school of fish. This seine is floated using small buoys attached to the perimeter of the net above the waterline and threaded through several rings running to the bottom of the net. When a school of fish is spotted on the water, a skiff or small boat encircles the area while it deploys the net.
9. Dredgers
When there is a need to excavate underwater soil, a dredger is usually the drafted sea craft to do the job. Dredging is usually done in shallow seawater to collect the sediments below or widen the water passageway.
Dredges have large excavation equipment that can remove sand and other sediments on the seabed. Some of the essential functions of dredgers are to undertake deep-sea mining and improve the navigational qualities of shallow coastal areas.
There are two general types of dredgers. They are:
Hydraulic Dredgers – Hydraulic systems provide their excavation power.
Mechanical Dredgers – Their power of excavation comes from a mechanical gear system driven by powerful electric motors.
10. High-speed Crafts
Another on our list of ship types is high-speed crafts. You may think that ships can't move on the water that fast. But these high-speed crafts are considered highly advanced and high-performance watercraft. While they are not widely used in commercial ships, they have successfully been tested and tried on small-scale traditional merchant ships.
There are five main classifications of high-speed crafts. They are:
Hydrofoil
Small Waterplane Area, Twin-hull (SWATH)
Wing-in-ground (WIG) Craft
Multihulls Including Wave Piercers
Surface Effect Ship (SES) and Hovercraft
11. Ro-Ro Ships
Roll-on/roll-off vessels are well-known as Ro-Ro ships. They are mainly designed to transport wheeled cargo, such as cars and trucks. There are five different kinds of Ro-Ro vessels. They are:
Full Ro-Ro Ships
General Cargo + Ro-Ro Ship (GenRo) Ships
Container Vessel + Ro-Ro (ConRo) Ship
RoPax
Pure Car Carrier (PCC) and Pure Car and Truck Carrier (PCTC) Ro-Ro Ships
Essential Safety Tools for Boats and Ships
Traveling in the open seas is fraught with dangers, especially at night. Boats and ships must be equipped with safety tools that can ensure their safety at all times. If you have a boat or are considering buying one, the three safety tools below are an excellent addition:
1. TOTAL MARINE Pac Trade Boat LED Transom Stern Light
This stern light is made of SS 304 and can be flush mounted. The bulb is a 1×1 cool white LED and splash-proof with a 120-degree beam angle.
Click here to see it on Amazon.
2. 12″ White LED Marine Navigation Anchor All-Round Boat Light
This all-round boat light is USCG 33 CFR 183.810 approved. It is visible up to 3 NM. As an anchor light, it can be visible up to 165 feet or 50 meters.
Click here to see it on Amazon.
3. White Stern LED Marine Navigation Light [IP67 Waterproof]
This white stern LED light is USCG-approved. It is visible up to 2 NM and meets the ABYC standard A-16. This light can be used in boats up to 65.6 feet or 20 meters long.
Click here to see it on Amazon.
Conclusion – Types of Ships – the Full List of 11 Different Types
So, to recap, the 11 different types of ships that you may encounter while you're out to sea are as follows:
Passenger Ships
Tanker Ships
Container Ships
Naval Ships
Special Purpose Ships
Bulk Carrier
Offshore Ships
Fishing Vessels
Dredgers
High-Speed Crafts
Ro-Ro Ships
Related reading:
Biggest Ship in the World – Top 10 List
Types of Navy Ships – 7 Classifications [US Navy]