The Sea-Doo company is famous for its jet skis, but not everyone knows they also made jet boats. In this article, I'll describe the Sea-Doo jet boat, including all of its specs and features.
Sea-Doo made various bestselling jet boats, including the Sea-Doo Sportster, Challenger, and Speedster. These impressive models are easy to drive and have approximately 155 to 430 horsepower. Sea-Doo stopped making its jet boats in 2012 due to the financial crisis that began in 2007, but you can still find them online.
Read on to learn more about the specs and features of Sea-Doo boats, as well as their history.
About the Sea-Doo Boat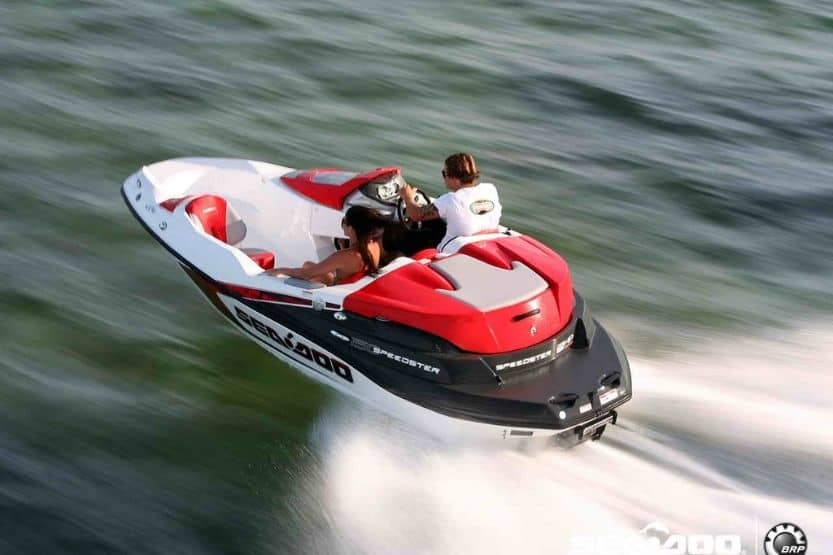 Sea-Doo jet boats are powered with a jet propulsion system and feature a single or double Rotax engine. While regular boats use propellers, jet boats make use of impellers to generate thrust. The water is sucked by the boat into the pump and is forced out to make the boat move forward.
Sea-Doo boats have a unique propulsion system. But, aside from that, they also have many other convenience and safety features.
The global financial crisis that began in 2007 greatly affected all industries, including the watercraft industry. This gave Sea-Doo no other choice but to stop manufacturing boats in 2012 due to poor sales. Sea-Doo then decided to focus on releasing recreational vehicles on the market, including Sea-Doo personal watercraft, Ski-Doos, and Can-Ams.
Among the various types of watercraft they were manufacturing, Sea-Doo decided to give up jet boats. This is because jet boats were, and still are, less popular than the sterndrive type. Jet boats have several drawbacks, and many boaters prefer the sterndrive ones.
Sterndrive boats are cheaper to maintain and require less attention compared to jet boats. Furthermore, jet boats tend to suck up seaweed, ropes, and other objects straight into the pump. These incidents, unfortunately, cause problems.
Advantages of Jet Boats
While jet boats may have disadvantages, there are still many boaters who prefer to use them. Let's cite some of the reasons behind their interest in jet boats.
First, a jet boat can have a single or double engine and jet pumps.
Second, a jet boat steers using a movable nozzle that aims at the stream of water right or left. The reverse bucket, or the diverter, drops over the nozzle to create a reverse thrust.
Third, jet boats have a minimal draft and have the capability to operate in very shallow water. This is because the whole jet drive system is positioned within the hull. This means that no outdrive or propeller could be broken by hitting the bottom.
Fourth, there is no risk when swimming around the boat's transom. This is because there is no propeller to pose a danger. The jet drive impeller is positioned within the pump.
Lastly, the jet boat's engine takes up less space compared to the sterndrive engine. This makes jet boats lighter than sterndrive boats. Thus, making it easier to tow jet boats on a trailer.
Sea-Doo Jet Boat Models
So, if you are interested in learning more about Sea-Doo jet boats, here are the features of some of the models:
Explorer
The very first Sea-Doo jet boat ever released on the market was the Sea-Doo Explorer. Released in 1993, it instantly became popular due to its unique and interesting design.
Operating the Sea-Doo Explorer is basically the same as when operating a regular Sea-Doo personal watercraft. It's just that instead of the personal watercraft hull, the jet boat features a rigid inflatable boat (RIB) hull. Suffice it to say that the Sea-Doo Explorer is a combination of Sea-Doo personal watercraft and a RIB dinghy.
The Explorer model has several engine variants ranging between 55 horsepower (hp) and 85 hp, or 570 ccs and 718 ccs.
This Sea-Doo model was canceled way back in 2002. But there are still a few second-hand Explorer jet boats being sold on the market, and they are still all up and running.
Speedster
The Sea-Doo Speedster was released a year after the Explorer was released. This model was recognized as the very first real Sea-Doo jet boat. Between the two models, the Speedster was more preferred by boaters.
This jet boat features a 650 cc, 160 hp, two-stroke engine. After a few years, another Speedster model was released featuring the standard Rotax 4-stroke, non-supercharged, 149 cc engine.
By 2006, Sea-Doo was already offering Speedster boats featuring twin supercharged engines. This boosted its maximum performance to 410 hp.
With the non-supercharged, single 155 hp engine, the Speedster 150's top speed is roughly 45 to 47 mph. As for its 215 hp supercharged engine, its top speed ranges between 58 and 59 mph.
In terms of the speed of the Speedster 200, it ranges between 54 and 68 mph. It all depends on the engine option. For instance, for a 310 hp engine, the top speed ranges between 52 and 54 mph. Whereas, for a 370 hp engine, the top speed can be between 56 and 58 mph. For a 430 hp engine, the maximum speed ranges between 67 and 68 hp. However, it all still depends on the load and weather conditions.
The measurement, the Sea-Doo Speedster 150, is 15 feet in length and 7 feet in width. Whereas the Sea-Doo Speedster 200 measures 20 feet in length and 8 feet in width.
In terms of reliability, the Speedster is just as reliable as any other Sea-Doo personal watercraft, as they are all powered by similar engines. However, between a non-supercharged and supercharged Speedster, the non-supercharged boat is more dependable. This is because it needs less attention and maintenance and has a low chance of malfunctions.
But then again, if you can afford to maintain a supercharged boat, it can be just as reliable. Not to mention the fact that it is more powerful too.
Sportster
The Sea-Doo Sportster was initially launched in 1995. Back then, it was powered with a dual 650 cc, the two-stroke engine which impressively produced 160 hp.
They replaced the power source in 2004. Sea-Doo introduced a new variant with a four-stroke, 1494 cc, 155 hp Rotax engine. By 2005, there were two engine options available on the market. First is the non-supercharged 1494 cc-power source that produces 155 hp. The second is the supercharged power source that produces 215 hp.
A Sea-Doo Sportster 155 has a maximum speed of roughly 50 mph at 6,800 RPM. However, the best cruise speed is already achieved at approximately 35 mph. The Sportster 155 boat features a 155 hp, four-stroke, 1494 cc Rotax engine with a closed-loop cooling system.
Sea-Doo also released the Sea-Doo Sportster 215. It features a 215 hp engine option and has a maximum speed of 55 mph. This doesn't seem to be a significant-top speed, but you will be impressed with how fast it accelerates. Furthermore, it provides a better riding experience.
The Sportster measures 15 feet 4 inches in length and 7 feet 1 inch in width. It is noticeably smaller than other Sea-Doo models. In terms of weight, the Sportster weighs approximately 1,454 lbs.
Challenger
Sea-Doo launched the Challenger jet boat in 1996. It initially featured a 782 cc, 110 hp, single dual-stroke Rotax engine. However, one year later, Sea-Doo began to offer Challengers featuring a twin-engine option at 220 hp.
In 2005, Sea-Doo released Challenger boats with a four-stroke engine at 185 hp. It also launched a supercharged 215 hp engine option.
The Sea-Doo Challenger jet boat has three variants in terms of hull size. These include the Challenger 180, which measures 18 feet, the Challenger 21, measuring 21 feet, and the Challenger 230 at 23 feet.
The Challenger 180 with a 215 hp engine has a top speed of 43 to 45 mph. In contrast, the one with a 255 hp engine can reach a maximum speed of 50 mph.
The Challenger 210, the one with non-supercharged twin engines, has a top speed of 46 mph at 310 hp. Simultaneously, the supercharged version with 430 hp can have a maximum speed of 55 mph.
See the video below for a great Sea-Doo boat review (Challenger):
Speedster Wake
It is worth mentioning that Sea-Doo also launched a wake boat called the Speedster Wake. This Sea-Doo wake boat can amazingly pull off all the standard capabilities of a jet boat and more. If you fill its cockpit-controlled ballast tanks with additional 272 kgs of water, it will throw a top boarding wake.
But there is no need to flood the ballast tank to achieve a reasonable wake. This Sea-Doo wake boat features a twin, aft-mounted, Rotax 4-TEC, supercharged, intercooler, 215 hp, four-stroke engine. Its jet nozzles are quite close together, seemingly working as one unit. This then allows the user to create a good wake at a top speed of 55 mph.
The Sea-Doo Speedster Wake boat measures 19 feet 9 inches in length and features an 8 feet beam. Since the boat is almost half as wide as its length, it further enhances wake performance.
Its dry weight is only 1,340 kgs. This means that it is not that heavy to tow for a 20-footer boat. However, it becomes heavier due to its fuel and water capacity of 170 kgs, ballast of 272 kgs, and passengers and gears of about 700 kgs. The displacement then becomes over 2.6 tons, which explains why the Speedster Wake is such a big wake boat.
Scarab Boats
In case you didn't know, Red Boat Holdings LLC has long acquired the Sea-Doo brand. So, if you are a fan of Sea-Doo boats, you might want to check out Scarab boats too.
Scarab boats are powered with Rotax engines. These are similar to the engines found in personal watercraft and recreational vehicles manufactured by Bombardier Recreational Products (BRP). Therefore, Scarab boats carry on the legacy of the Sea-Doo jet boats. Suffice it to say that Scarab boats are the new Sea-Doo boats.
Sea-Doo Boat Price – How Much Do They Cost?
You can still find Sea-Doo boats on the second-hand market. Generally, the second-hand Sea-Doo boat price ranges between $5,000 and $30,000. It all depends on several factors such as condition, age, and features.
The aged Sportster boats are typically the cheapest ones—Sea-Doo boat prices for this model range between $5,000 and $10,000. However, if you prefer a "fresher" unit, it will most likely cost you $7,000 to $20,000. For a Challenger, the price for a fresher unit can go as high as $30,000.
The cost of brand new Scarab boats ranges between $30,000 and $130,000. It all depends on the model and features. The cheapest Scarab jet boats cost $25,000 to $35,000. Whereas the most expensive is at $130,000, which is the Scarab 285 model.
Conclusion – Sea-Doo Boat Review, Prices, Specs
Sea-Doo made various bestselling jet boats, including the following:
Sportster
Challenger
Speedster
These impressive models had approximately 155 to 430 horsepower. Sea-Doo stopped making its jet boats in 2012 due to the financial crisis that began in 2007.
If you check out Sea-Doo boats on the second-hand market, you will surely find one that meets your budget and requirement. But if you prefer a brand new one, you can check out the Scarab jet boats. Scarab boats' specs and features are basically the same as the specs and features of Sea-Doo boats. Riding one will make you feel as if you are riding a Sea-Doo boat.