The Sea-Doo Challenger 1800 provides maximum speed and fun on the water. This is not a jet ski, but a jet boat – a popular Sea-Doo model in the past. In this Sea-Doo Challenger 1800 review, I'll list all of its specs and features so you can decide if it is right for you.
One of the biggest, high-performance, and fastest jet boats on the planet today is the Sea-Doo Challenger 1800. It is versatile, easy, and fun to use. Powered by a single M2 jet drive engine cranking 249 horsepower, it can clock speeds of up to 48.7 miles per hour at 5,200 revolutions per minute.
This large jet boat can also cruise the waters at speeds of 25 mph at 3,000 RPM. It has an overall length of 17 feet and 11 inches. Its beam is 7 feet, and 6 inches and its solid weight is around 1,865 pounds. This jet boat can accommodate 7 people.
Read on to learn more about the Sea-Doo Challenger 1800, its background, and its features and specs.
About the Sea-Doo Challenger 1800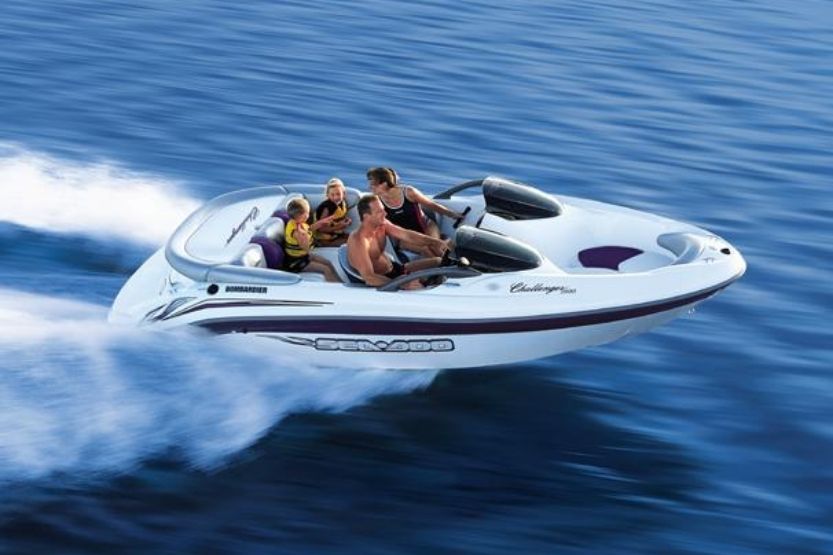 This jet boat is really exceptional because it won the IDEA engineering design award in 1998. For its 1999 year model, this boat was offered by its maker in two colors, namely green and burgundy. Its manufacturer is Bombardier Recreational Products.
When they were producing this jet boat, BRP is one of the biggest producers of recreational watercraft. This Canadian boat company manufactures watercraft ranging from jet skis to large jet boats.
Clever Design
The Challenger 1800's clever design enables it to be adept on the water. It is has a seating capacity of 7 people. The smart engineering that went into the design of this jet boat enabled it to exude a sporty character.
Its overall weight of 1,865 pounds and beam of 7 and ½ feet made it stable even when you rip it through rough waters. Its V6 M2 Mercury engine wide open can reach top speeds of up to 48.7 mph. But its more comfortable and safer cruising speed is around 25 mph.
BRP No Longer Produces Boats
Unfortunately, Bombardier is no longer producing its Sea-Doo sports boats, including the Sea-Doo Challenger 1800. But the company is still honoring its boat warranties. Bombardier announced its decision to stop its sports boat production in September 2012.
The reason, the company claims, was declining sales, a situation which was brought about by the financial crisis at that time. Bombardier said that its sales went south starting in 2007. It has not improved since then until 2012, when they can't continue their boat production any longer.
Factors That Led to Sea-Doos' Sales Decline
Several factors led to the sales decline of sport jet boats in general, not just the Sea-Doos:
They became less popular than the boats with stern drives because of certain disadvantages
They cost a lot more to maintain
Jet boats are considerably noisier than other boat types
They are less durable
Steering them is more difficult and their ride experience is less enjoyable
They require more attention
They are prone to suck ropes, seaweeds and other foreign matters into their pumps causing a lot of problems
Sea-Doo Challenger 1800 Features
Here are the essential features of the Sea-Doo Challenger 1800:
1. Standard Reverse
This is a key feature in terms of maneuvering this Challenger 1800 around the docks.
2. Weedless Intake System
With this feature, you don't need to go over the side of the boat and clear out the grate each time it catches floating debris on the water.
3. Built-in Cooler
It keeps all the passengers cool during hot days.
4. Adjustable Mirror
This enables you to monitor other water skiers in the area
5. In-sole Locker
For storing water skis and getting them out of the way until they are ready to be used.
6. Stereo System
For added passenger comfort and enjoyment.
Sea-Doo Challenger 1800 Specs
Here are the essential specifications of the Sea-Doo Challenger 1800:
Engine: Mercury
Type: V6 M2 Jet Drive
Horsepower: 249 hp.
Overall Length: 17 feet 11 inches
Beam Width: 7 feet 6 inches
Draft: 12 inches
Weight (dry): 1,865 pounds
Capacity: 7 passengers
Price: $19, 400 (suggested list price)
During its heydays, the Sea-Doo Challenger was known as one of the fastest jet boats on the land. Many boaters were also attracted to this jet boat because of its remarkable features.
Here are some detailed discussions about the important features of this jet boat:
1. Powerful Engine
The Mercury V-six M2 Jet Drive of the Challenger 1800 has enough power to get you going even at full passenger capacity. This boat can easily reach from 0 to 30 kilometers per hour (18.6 miles per hour) in just two seconds.
Responsive
Yet, this boat is still very responsive that can give you great thrills. Just a 270° lock-to-lock in its steering system will allow you to tweak the wheel so that you can perform sharp turns. Apply some throttle and then accelerate right after the turn, and you will leave a large rooster-like water tail suspended in the air.
Rev Limiter
To avoid damaging the engine, the designer of this boat added a rev limiter. The result is a not too noisy and a smooth running engine. Riders have reported top speeds of 48 mph or 78 kph and cruising speeds ranging from 25 to 30 mph or 40 to 48 kph.
With these capabilities, this jet boat offers more practicality than any personal watercraft (PWC). Some say that this jet boat is more adaptable to any water condition it is put into compared to standard bowriders.
2. Space Age Styling
The Challenger 1800 is a worthy jet boat because it has a style that matches its performance. Its dashboard design is space-age while also being ergonomically functional. The captain section of the boat has a built-in cooler, a 12-volt plug, and a lockable glove compartment.
There are two firmly padded buckets at the cockpit, and there are also three seats at the aft, separated by bolster-style partitions. This boat also has plenty of grab rails. Its armrests are also correctly placed. Wraparound bow cushions envelop the passengers inside.
Above the engine hatch, a very spacious sun pad is complete with a deep padded lip to prevent passengers from slipping overboard.
3. Great Handling
The Sea-Doo Challenger 1800 handles more predictably than a PWC, but it is not a pushover. While it is considerably bigger than a PWC, it still can provide a great deal of fun to the skipper and the passengers. It can perform eye-watering acceleration and create G-forces that can pull passengers out of their seats.
Although able to speed up to more than 40 kph, this jet boat will be kinder to waterway users who are peeved by pesky PWCs. Unlike these smaller PWCs, this jet boat is big enough so it won't get in its way.
Again, what does Sea-Doo Challenger 1800 offer? Sea-Doo Challenger 1800 is one of the largest, high-performing, and fastest jet boats out there. With its single M2 jet drive engine that can reach up to 249 horsepower, it can run up to 48.7 miles per hour at 5,200 RPM. Lastly, it is versatile and fun, and easy to use.
4. Full Day Fuel Capacity
The Challenger 1800 of Sea-Doo has a big enough fuel tank that allows its passenger to enjoy a full day of thrills and enjoyment on the water. A full 151-liter tank should be enough to get you where you want to go and back, as well as do all the things that you want for the day.
With a full tank, you will be able to run upriver, play silly buggers and perform slalom tricks for the camera or tour houses on the sides of the water.
5. Smart Overall Design
Smart engineering went into the design of the Sea-Doo Challenger 1800. This can be seen in its smart parking system. Most jet boats can only be steered when the skipper operates the throttle. For novice skippers, this is a recipe for disaster.
With this Sea-Doo Challenger, it is different. With just a slight turn of the wheel, when you can begin to feel resistance, the throttle starts to advance to turn the boat either to the left or to the right. While in reverse or forward gears, this boat turns while it makes slow progress. When the gear is in neutral, the boat pivots an axis determined by the jet drive.
Parking System
The parking system of the Sea-Doo Challenger 1800 gives confidence to novice boaters. It gives them control over the boat more than a first-timer can grapple with a PWC hand bar. This parking feature enables the skipper to maneuver the boat at close quarters and sidle up to the wharf with great ease.
The Challenger's design also considers the boat's crew. It has a good deal of wet and dry storage space, and there's an abundance of grabrails, ergonomics went into the design of the moldings, seats that lock the passengers in, drink holders, a sock that neatly tucks a canopy, and a good sound system.
Long and Wide Enough for 7 Passengers
This jet boat is long and wide enough to accommodate 7 passengers. Seating for three is available on the aft lounge, two seats are up front, and the other two are behind the consoles at the helm. There is also ample freeboard space.
Molded into the hull sides is a spray rail with the top sides flared. The boat's sides seem to increase as it goes to the helm and just aft of it. This is to protect the passengers enjoying their time at the aft lounge.
The hull of this boat has a robust 20° of deadrise. At its top are sculpted moldings. The seating is also ergonomically designed. There is also plenty of storage in this boat. Its finish is top quality, and it exudes great appeal in or out of the water.
6. Comfort and Convenience
All seats in the Sea-Doo Challenger 1800 are very comfortable. That's because they are padded with high-density foam and thick vinyl marine-grade. A sun pad is located behind the aft lounge. It lifts to reveal the space that leads to the engine.
This jet boat has no external propeller making it completely safe for skiers. There are two cleats in the bow, twin handle holds, split navigation light, storage under the seats that includes a center well for the anchor, and two drink holders.
To make it easy for passengers to move around the Challenger 1800, its walkways between the consoles are made wide. The walkways are also equipped with molded and non-skid liners.
For the consoles, rakish moldings are used, which are fully fitted with pop-up windshields. At first glance, they look weak. But when they are locked in position, they can minimize the volume and strength of the wind as it hits your face.
The co-pilot console contains a glove box that is equipped with a marine stereo. There's also a 12 volts accessory socket for video cameras or mobile phones. The skipper's helm looks sporty. It is equipped with white gauges that indicate all the operating information needed by the captain.
The gauges included in the instrument panel are for fuel, the speed of the boat, its course or direction, the engine hours, and the voltage. There is also a side mirror that can be used to check if there are skiers or passengers nearby. Other items included in this boat are an under-fold ski locker and a waterproof switch panel.
Sea-Doo Challenger 1800 Top Speed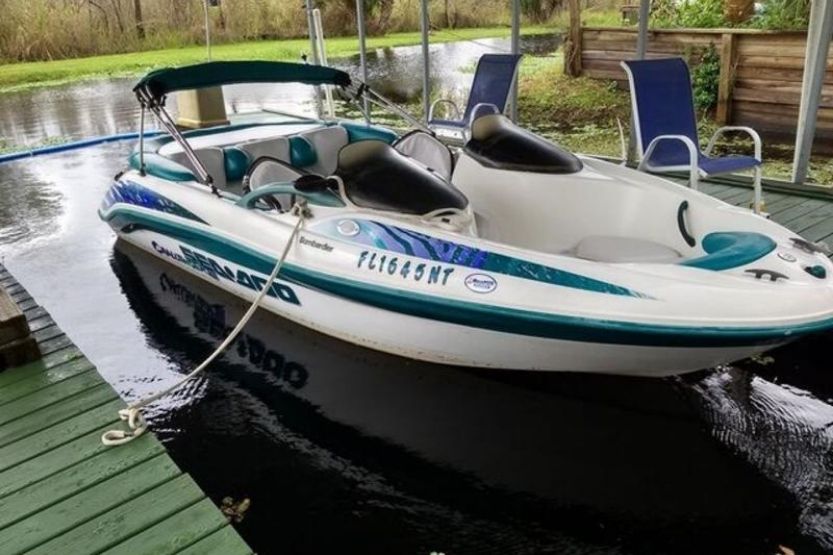 The heart of this jet boat is its motor. For the standard Sea-Doo Challenger 1800, power is provided by a single Mercury M2 jet drive that can crank up to 249 hp. One of the things that enabled it to win the IDEA98 engineering design award is its multi-chine V-hull.
This V-hull is this boat's design element that enables it to accelerate quickly, to be nimble in handling and turning, and the one that provides a stable ride.
So, with these design characteristics and its engine power, the Sea-Doo Challenger can pick up its speed fast. It can fly out of the water and get onto a plane in just two seconds. In actual tests, this boat can attain a top speed of 48.7 mph at 5,200 RPM.
Conclusion: Sea-Doo Challenger 1800 Specs and Review
The Sea-Doo Challenger 1800 is one of today's biggest, high-performance, and fastest jet boats. It is easy, versatile, and fun to use. This jet boat is powered by a single M2 jet drive that can generate 249 hp. It can reach a top speed of up to 48.7 mph at 5,200 RPM.
Unfortunately, its maker, Bombardier Recreational Products, stopped producing this jet boat in September of 2012. Dwindling sales brought about by the financial crisis at the time was one of the reasons. The Challenger 1800s that you can buy now are only the used ones.