If you have ever dreamt of living on a boat for an extended period of time, or indefinitely, then recreational trawlers are a perfect option. Their design and shape make them excellent for living on the water. What are the best trawlers to live on?
Through our research, we have found the 10 best trawlers to live on:
Kadey-Krogen 50 Open
Beneteau Swift Trawler 44
Fleming 55
Grand Banks 43 Heritage EU
Great Harbour N47
Kadey-Krogen 44 AE
Beneteau Swift Trawler 30
Nordhavn 40
Ranger Tugs R27
American Tug 365
Any of these trawlers will make your stay on the water comfortable. There are many different features to look at, so read on to learn more about these best trawlers to live on and their differences.
Also, we hope you find the links here useful. We may get a commission if you purchase something through a link on this page, so thank you!
Best Trawler to Live On? Top 10 Picks
1. Kadey-Krogen 50 Open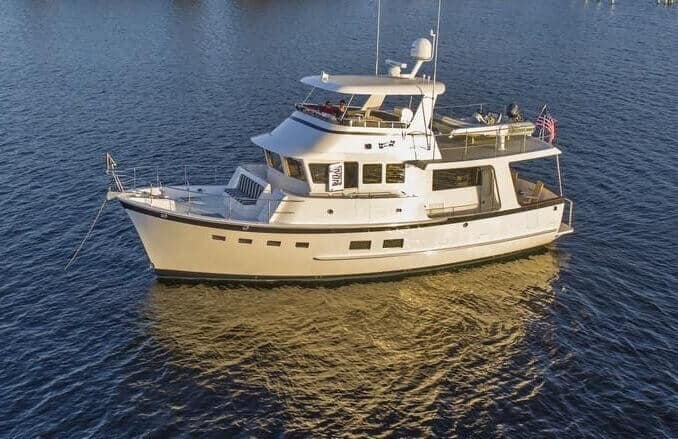 The Kadey-Krogen 50 Open, as the name suggests, has an open interior layout – open from the salon to the pilothouse – which makes it unique. If you don't like the open interior concept, a bulkhead panel can be installed.
The K-K 50 is designed for owners who love to go on an extended journey. The trawler measures seven feet towards the forward bulkhead and 6.5 feet through the rear of the engine.
The trawler is very good at providing owners the facilities to make their journey comfortable while sailing at 6 knots for 5,000 nautical miles; 7 knots for 3,000 nautical miles; 8 knots for 2,100 nautical miles; and 9 knots for 1,200 nautical miles.
The Kadey-Krogen 50 Open is also a good fit for those who are hands-on with machinery maintenance since its master stateroom is connected to the engine room. To give you the home feel – the master stateroom has two lockers and 12 cabinets where you can keep your necessities like clothing and other items.
An office is included in its facilities where you can do your work. Forward to the galley is a Sub-Zero refrigerator and freezer designed to hold large volumes of food for your long journeys. There is also a four-burner Wolf range, storage for dry goods, and a dishwasher.
Click here to see this GoPro HERO9 Black on Amazon.
2. Beneteau Swift Trawler 44
The Beneteau Swift Trawler 44 prides itself on being elegant, classic, fast, modern, and stable through the waves. Speaking of speed, the 44's semi-displacement hull makes it possible to cruise at speeds as fast as 21 MPH and up to 22 MPH. The trawler is powered by twin Volvo Penta D4 300-hp diesel engines. Its overall length is 13.87 m (45′ 6").
Beneteau Swift Trawler 44's mahogany woodwork adds to the warm and livable atmosphere of this trawler. Inside this trawler are several storage spaces, three burner gas cookers, a sofa that can be converted into a double bed in the saloon, cabins, a huge foredeck, a cabin top sun pad area, and a large cockpit with a protective door.
The flybridge area can be used as a barbecue area. A canvas cover that can protect you from the sun is also installed, and there's a sink and fridge installed forward of the flybridge area. You can either steer from downstairs or at the primary helm station, where you have lots of visibility.
The trawler has two staterooms – a master located forward and a guest room aft from it. Aside from this, the trawler also has two spacious shower compartments.
3. Fleming 55
Number 3 on our list of the best trawler to live on is the Fleming 55. The Fleming 55's LOA and LWL are 55′ 9″ (16.99m) and 60′ 9″ (18.50m), respectively. Its main engine is a Twin Cummins QSC 8.3 500 hp with a common rail fuel system.
People who own the Fleming 55 enjoy high-quality equipment and its above normal accommodations, offering comfort on long journeys. It has been upgraded throughout the years to bring the sailors comfort, safety, and an overall better boating experience.
Its semi-displacement hull design allows you to travel long ranges at displacement speed. Its low-profile design allows for more stability and allows people easy access while boarding from side decks.
The Fleming 55 can cruise at a top speed of approximately 18 knots without the noise and vibration you usually experience when cruising. This is made possible by Aquadrive anti-vibration drive systems.
The Fleming 55 has three staterooms, wide decks, and a huge covered aft cockpit. An entertainment center, a full-size refrigerator, and a freezer were placed on the starboard side of the saloon. A raised pilothouse with a Portuguese bridge has a large space allowing you to move. It also gives you a better viewing angle. A flying bridge can be utilized as well, especially when you are in the mood to run your boat outside in nice weather. 
Click here to see this BLAVOR Solar Power Bank on Amazon.
4. Grand Banks 43 Heritage EU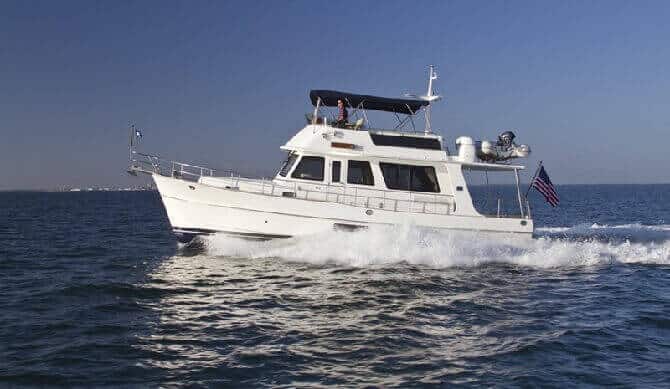 Like Fleming 55, Grand Banks 43 Heritage EU (LOA (M/FT: 13.11/43.00) has a modern semi-displacement hull that makes it capable of cruising at speeds faster than its old version. The other reason for its speed is the pair of Cummins QSB6.7 diesel engines rated at 480 HP, which is connected to Zeus pod drives. With this, the Grand Banks 43 Heritage EU's speed can reach approximately 20 knots.
Its layout includes a master stateroom, guest room, larger saloon, cockpit area, and two shower/head compartments, making it a very comfortable trawler. A Tropics Air Con is installed in the saloon and cabin to make your journey comfortable even during the summer.
You do not have to worry about your food and other necessities for long journeys because a large storage area is located under the deck's utility room, where a freezer and fridge are also installed. A large stairway leads to the flybridge area. The area is made comfortable by installing sofas, helm seats, and an extended aft while you run the trawler.
Some owners modify steel railings to make them hold fishing rod holders. All this makes Grand Banks 43 Heritage EU great for vacations, entertainment, and maybe your home.
5. Great Harbour N47
Number 5 on our best trawlers to live on list is the Great Harbour N47. The Great Harbour N47 (LOA 46' 10'' and LWL 46' 1'') is designed with its livability in mind while making it your go-to trawler for long-distance journeys. This trawler is famous for being slow and steady. It can sail at about eight knots. The engine is the twin 75 HP Yanmar diesel. Due to its three feet of draft, it could slide over shallow water, making it easier for you to explore inner waters (easier than many other trawlers).
If you are thinking of buying a new N47, you can choose from a two-stateroom model with a dinette on the lower level, a three-stateroom model, and a three-stateroom model with rooms. The interior of this trawler is made with durability in mind, withstanding years of usage.
The pilothouse has an L-shaped sofa with a dining table in the middle. Three seats have also been installed across the dinette area. All the sofas can be converted to a bed. An upper bed is available, meaning a total of four people can sleep in the saloon alone.
The engine room is also crafted to have a huge space to make maintenance easier when needed. The headroom in the engine room measures seven feet.
Click here to see this Garmin 010-01879-00 InReach Mini on Amazon.
6. Kadey-Krogen 44 AE
The Kadey-Krogen 44 AE is the product of 35 years of improvement of the 44s built prior to this version. Krogen 44's engine is the single 148 HP John Deere diesel engine. One of its features is a strong full-displacement hull. 44s can cruise nearly 2,000 nautical miles in eight knots.
This version has both exterior and interior spaces designed for comfort. And this is the reason why Kadey-Krogen 44 AE is a popular choice for those looking for a trawler to live on.
Kadey-Krogen 44 AE's doors are welded aluminum, which is a practical choice compared to the varnished teak that can easily be worn down by weather changes. The windows are made up of Gebo tempered glass. The trawler is also equipped with exalto windshield wipers and a full-size queen mattress located in the master stateroom.
The stem and stern are made up of Kevlar, which adds to the safety of the boat. A rub rail is installed on this trawler, protecting the hull from pilings. A swim platform can be your way of getting aboard, but there is also a port and starboard installed on the sides for your comfort. Lastly, the 44-E trawler has a covered cockpit that can be a living area where you and your guests can enjoy.
7. Beneteau Swift Trawler 30
The Beneteau Swift Trawler 30 is one of Beneteau's modern design trawlers. The LOA is 32 '9″ (9.99 m), and the beam is 11'7". It can cruise for 200 miles at a speed of 14/15 knots. A single straight-shaft 370 HP Volvo D6 diesel is the reason behind its power. It is designed for long-distance journeys and enjoying stopovers.
Beneteau is small, allowing owners to maintain it easily, but it also offers great accommodations for long journeys. The rear cockpit can be converted into a terrace overlooking the sea. The trawler is surrounded by handrails, high pulpits, and a protected walkway – all of which are installed for the safety of the owners.
The interior includes a full galley and a private stateroom. It has a large flying bridge, also serving as a driving station, for its small size. The flying bridge is installed with a small lounge area, which makes it a separate living space. The trawler has a walkaround accessible from its helm through the side door too. The Beneteau has foldaway seats, a convertible sofa, and a table that can be folded, including a spacious shower compartment.
Click here to see this BLACK+DECKER dustbuster AdvancedClean Cordless Handheld Vacuum on Amazon.
8. Nordhavn 40
Number 8 on our list of the best trawler to live on is the Nordhavn 40. The Nordhavn is one of the smallest models of trawlers available in the market. It measures 39'9″ in length. It was designed for serious cruising and a temporary or permanent place where you can live on. It proved to the world that even if it is the smallest boat, it is still a safe option. In fact, it navigated the world. After 26 weeks, it made a 23,000-nautical-mile voyage.
This trawler has a John Deere 107-hp 4045 for an engine. It can run at about 2,400 nautical miles at seven knots. Aside from the John Deere 107-hp 4045, it also has a wing engine built for when the main engine has a problem.
The to-be captain of the trawler can navigate from the pilothouse, which is built for long navigation. Its features include reverse-angle windows, a space for electronics, a folding chart table, and a settee with a cushion that can be folded for a person to take a nap before a night watch.
The salon is furnished with a settee. The other corner can be furnished with a desk or a furnace. Nordhavn 40 has a stateroom furnished with bunks, including a washer and dryer. The master stateroom has a queen bed, storage, and wood bulkheads. The owner can also attend training where he can pilot this trawler.
9. Ranger Tugs R-27
Ranger Tugs R-27 is powered by a 300-horsepower Yamaha F300 and a standard-issue bow thruster. Its cruise velocity is 26.7 knots. The R-27 is an affordable option as compared to the other 30 plus footer trawlers. But being affordable does not mean that it is not equipped with everything a navigator needs, such as fire extinguishers, PFDs, lines, and navigator equipment.
The R-27 provides three private sleeping quarters, a table and a cushion, and a four-seater convertible dinette. A few steps from the bunks is the compartment with toilet, shower, sink, storage, and cabinets. On the port side, you'll find a convenient hanging locker installed along with a 19-inch TV/DVD.
The port side of the salon provides the owners some wood cabinets, drawers, additional storage, a refrigerator/freezer, sink, and a two-burner propane stove and oven. The cockpit offers space and a door to the swim platform. All of these features make Ranger Tugs R-27 one of the best trawlers to live on.
Click here to see this First Alert Fire Extinguisher on Amazon.
10. American Tug 365
Rounding up our list of the top 10 best trawlers to live on is the American Tug 365. American Tug is known for creating trawlers with high-quality materials, well-researched technology, and spacious interiors. As a result, the trawlers they make are durable with efficient performance appropriate for long and short navigation. The trawler is run by a single diesel engine (Cummins or Volvo). The boat can cruise at 17 knots. It measures 36'6″ long.
AT 365, the most recent development from American Tug is an awesome option where you can live. It offers a cockpit cover, a U-shaped dinette that was always L-shaped in their previous designs, a layout that allows greater visibility, and a new master stateroom layout furnished with lockers, cabinets, and queen berths, including a shower stall.