Painting a canoe is fun and easy if you know what you're doing. First, you need to ensure you get the right type of paint. What are the best canoe paints?
The best canoe paints work well with the type of canoe that you plan to paint. Some paints are not good when applied on canoes made of fiberglass but are perfect with aluminum-made canoes. Moreover, some paints work well with plastic-built canoes but not with wooden canoes.
Here are some of the best canoe paints are:
Rust-Oleum Marine Topside Paint – Our Top Pick! Click here to see it on Amazon.
TotalBoat Wet Edge Topside Paint
Interlux Bottomkote Antifouling Paint
TotalBoat Aluminum Boat Paint
Sea Hawk Paints Aluma Hawk Aluminum Boat Paint-a-Fiberglass-Canoe
A friendly guide for a DIY painting of canoes would help you achieve your goal. You must know the details before you start painting.
Read on to learn more about the best paint for canoes, and how to paint canoes properly.
Also, take a look at our top pick on Amazon, the Rust-Oleum Marine Topside Paint, to see its price and great reviews:
Click here to see it on Amazon.
The Best Canoe Paints
Whether your canoe is aluminum-made, plastic built, or wooden, the paint should stick smoothly to the canoe's surface. Listed below are the best canoe paints with their corresponding descriptions, benefits, and the type of canoe they are compatible with. Included are also the colors and shades available for each painting.
1. Rust-Oleum Marine Topside Paint
If your canoe is made of wood or fiberglass, then this paint is a perfect choice. Most especially if you are looking for a glossy, smooth, and satiny finish. If you're rushing to have your canoe painted, this one dries faster than expected.
This paint can protect your canoe from UV rays, harmful weather conditions, and resistance to abrasions because of its solid coating. This is ideal for people working on a small budget.
However, before you finally purchase this paint, note that you need to do your painting in an open area to ensure good ventilation. The second downside is, it's not so good as other gel coats.
Take a look at the Rust-Oleum Marine Topside Paint on Amazon, to see its price and great reviews:
Click here to see it on Amazon.
2. TotalBoat Wet Edge Topside Paint
This paint is used for wooden and fiberglass canoes. The durable colors are superior, giving an impressive finish. It is resistant to scratches or abrasions, UV, and paint-damaging chemicals.
It provides a glossy finish and is easy to use.
There are 21 different colors available, which means that you can freely choose the best canoe paint for your property.
The downside of this paint is that it requires more applications to get the smooth finish you want.
3. Interlux Bottomkote Antifouling Paint
This paint is best for fiberglass-made canoes as it is fast-drying. It is not fit for aluminum crafts. The paint coating helps slow down the wearing of the canoe. Continuous use of this kind of paint can help smooth your canoe's surface.
The downside is that it is expensive compared to the other kinds of paints. On top of that, it does not ensure a glossy finish.
4. TotalBoat Aluminum Boat Paint
As the name of the paint implies, this paint is good for aluminum-made canoes. It boasts of its resiliency property that would ensure that your paint will not easily peel off.
This paint is resistant to corrosion, damaging chemicals, fading, and abrasions. It adds a perfect finish to your canoe with incredible vibrant colors.
Additionally, the paint dries quickly, is durable, and comes in 6 different colors:
Army Green
Earth Brown
Khaki
White
Black
Light gray
It is also cheaper compared to other canoe paints.
You must keep in mind that you have to apply several layers before achieving the desired result. You also need to carefully inspect the colors because they may not be the shade you are expecting. [1]
5. Sea Hawk Paints Aluma Hawk Aluminum Boat Paint-a-Fiberglass-Canoe
This paint is good for aluminum canoes. Unlike other paints, one coating is enough to cover your canoe. It is a preferred paint by most canoe owners because it is economical.
You can use it as a topcoat or primer. It does not require a primer before its application because manufacturers designed it for aluminum surfaces.
The paint dries instantly and is compatible for use with fresh or saltwater. Also, it has no anti-fouling properties. [2]
What Is the Difference Between a Canoe and a Kayak?
The canoe uses a paddle with blades on only one end of the paddle, while a kayak uses a paddle with blades on both ends of the paddle.
The kayak has a cockpit for the paddler to sit. This area is surrounded by decks covering the boat's top, while the canoe has an open-top.
In most cases, the paddler in the kayak stays seated while the paddler in the canoe kneels. Nonetheless, paddlers can always assume positions they most comfortable with.
What are the best canoe paints? Here are some of the best canoe paints you can use:
TotalBoat Wet Edge Topside Paint
TotalBoat Aluminum Boat Paint
Sea Hawk Paints Aluma Hawk Aluminum Boat Paint-a-fiberglass-canoe
Interlux Bottomkote Antifouling Paint
Rust-Oleum Marine Topside Paint.
Next, let us proceed on how to paint your canoes. When this process is done haphazardly, you would be wasting your energy, time, and money.
How to Paint a Canoe
Here are common steps in painting canoes. Slight differences depend on the canoe type:
1. Prepare the Supplies
Make sure you have the following ready before you start painting:
Safety glasses
Gelcoat repair kit
Pressure washer
Acetone
Orbital electric sander
120-grit sanding disk
Utility knife
Masking tape
Tack cloth
Paint roller
Dust mask
Paintbrush
Paint tray
Paint mixing stick
Marine paint
Paint thinner
Clean cloth (optional)
Sponge (optional)
Earplugs (optional)
2. Clean the Canoe
Choose a Day and a Place to Work
Locate an open space to work. Ensure that you start your work when the weather is good. Hence, you need to forecast the weather for the next two days. You would need a sunny day to have your canoe dried properly after cleaning and painting it.
Power Wash the Canoe
Flip the canoe over 2 sawhorses to expose the hull for better washing. With your power washer, clean the canoe with water to remove dirt and grime.
Dry the Canoe
After power washing and making sure that all the dirt and grime are removed, let the canoe dry under the sun. Doublecheck to ensure that it gets dry properly.
3. Repair All Damaged and Cracked Parts of the Hull
Check your canoe for cracks and deep dents. Repair these with your gel coat. Make sure that all the damaged part of the hull is repaired.
4. Sand the Canoe
Remove all stickers on the hull with your knife to ascertain that the stickers are completely cleaned.
With your electric sander on, start sanding your canoe until the old paint is completely off. If you don't have an electric sander, then make use of the sandpaper. It would take a longer time to finish the work, though.
5. Wash the Canoe or Wipe Off Dirt and Dust
If you chose to wash the canoe with water, mix powder soap with water and dip your hard brush on the mixture. Scrub your canoe to remove the dirt and dust.
If you prefer wiping it off, get a tack cloth and wipe your canoe until all the dirt and dust are fully removed. A tack cloth is specially designed to clean dust than an ordinary cloth.
6. Dry the Canoe Well
Allow time for the boat to dry fully. Run your hands over the boat to find out if this is dry before you embark on putting the primer. Air drying the canoe after it is cleaned with soap and water is best.
7. Apply the Primer (For Aluminum Canoes)
Cover all other parts of the canoe that are not to be painted using masking tape. This is to ensure that the rest of the canoe is not messed up with paint.
Use primer canoe paints appropriate for your canoe's surface; oil-based is the best.
Put in a little paint thinner on the primer. Apply primer on the interior and exterior parts of the canoe.
Let it dry overnight or for 10-12 hours.
8. Paint the Canoe with the First Coat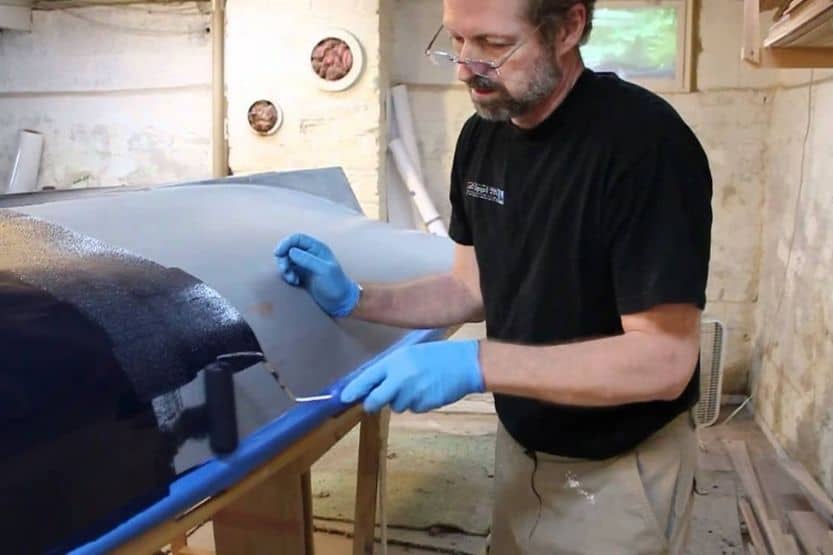 Choose the paint suitable for your canoe: Check the label of the product you bought to determine if this is best for your canoe.
Mix your paint with thinner: The ratio should be 1:9 (1 part thinner to 9 parts paint or 10% thinner and 90% paint). This is the ideal ratio to get the best results.
Apply the first coat on the canoe's interior: With your paintbrush or roller, apply the first coat on the interior of the canoe. If you notice bubbles, use your paintbrush to smooth these. Be sure to cover all the boat corners.
Allow the paint to dry for about 10 hours or 24 hours for better results: Flip the canoe and paint the exterior part like you did when you painted the interior portion.
9. Sand the Canoe
After the first coat is completely dry, sanding is necessary using sandpaper with 120 grit or an electric sander with the same grit. This will make the second coat of paint stick. Sand the interior and exterior parts of the Canoe.
10. Wipe Off the Dust
Using a tack cloth, wipe the dust off the canoe. Make sure that it is thoroughly cleaned of dust before you proceed with your painting task.
11. Apply the Second Coat
You can now apply the second coat on the inside and outside part of the canoe. You can use your roller, spray, or paintbrush. Remember, though, that spraying can be untidy.
Make it a point to paint the end caps, gunwales, and areas that are difficult to reach. If you want to do a third coat, repeat steps 9 and 10 and apply the third coat.
The third coat is optional, depending on your preferences. If you want a thicker paint on your canoe, a third coating is perfect, but a second coat should be enough.
12. Add a Clear Coat
This can be optional for fiberglass canoes. With a clean roller or paintbrush, add a clear coat on the canoe's interior and exterior parts. Then leave it to dry overnight.
13. Keep Your Canoe on Dry Land for 48 Hours
Before you go on the water, let your canoe dry for 48 hours. Although the paint would have dried after 24 hours, it would be best to wait for 48 hours to ensure proper curing. This step is crucial because all your effort would go to zilch if you do not follow this vital step.
Find a dry place for your canoe while waiting for it to be ready. Don't leave your boat outside under the night sky to prevent it from getting wet from moisture or rain.
Conclusion – The Best Canoe Paints
What is the best canoe paint? Our top 5 picks for the best canoe paints are as follows:
Rust-Oleum Marine Topside Paint
TotalBoat Wet Edge Topside Paint
Interlux Bottomkote Antifouling Paint
TotalBoat Aluminum Boat Paint
Sea Hawk Paints Aluma Hawk Aluminum Boat Paint-a-Fiberglass-Canoe
Finding the best paint for your canoe is not that difficult. You have to refer to the label on the product, and you will know if it suits your canoe or not.
Also, there is plenty of literature on various paints that are available online and in physical stores. There are several top paints for canoes, but the final decision is still yours. Pick one that best suits your preferences and requirements.