What is the best marine plywood alternative? Marine plywood is not the only material that you can use to build boats and other structures exposed to water. Sure, marine plywood has already proven itself in this regard, but it is rather expensive. In this article, I will list some of the best marine plywood alternatives.
What are the best marine plywood alternatives in the market? One of the most common alternatives to marine plywood is fiberboard. It is also called a medium density board or MDB. This material is strong and very durable. Sealing its surface with high-quality varnish, resin, and sealant will make it wet-resistant.
The 9 best marine plywood alternatives are as follows:
Fiberboard (Medium Density Board)
Exterior Grade Plywood
Fiber Cement Board
Birch Plywood
Ribbon Grain Plywood
Wax Resin Fiberboard
3M Reinforced Polyurethane Foam Boards
Thermo-Lite Board
King StarBoard
Marine plywood is customarily expensive because of its strength and moisture-resistant properties. Due to its high initial cost, boat builders and other construction companies may look for a marine plywood alternative that is just as good but without the hefty price.
Read on to learn more about the best marine plywood alternatives, including their features and advantages.
Marine Plywood Alternative
This type of material is called 'marine plywood' because it is typically used to build boats. It is very resistant to moisture, so it can retain its physical properties even it is continuously exposed to moisture-laden conditions. This is the prime reason why it is quite expensive.
Thankfully, many alternative materials offer the same quality and features. Some of these alternative products are more affordable than marine plywood, while others have higher prices.
1. Fiberboard (Medium Density Board)
One of the most popular alternatives is fiberboard. Also known as "medium density board," this material is very durable and strong. It is not actually made of 100% wood but is composed of small softwood fibers bonded together by a wax resin. Its resin component makes fiberboard resistant to moisture.
Fiberboard is made by mixing wood fibers with the resin wax. The resultant wood product is very strong. The bonded wood fibers are cut into wood sheets of standard sizes. These wood sheets or panels are then subjected to high pressure and high heat. After this process, the wood panels are as strong and as durable as marine plywood.
Aside from fiberboard, there are other alternatives to marine plywood that are equally strong and long-lasting. The rest of this article will discuss these other marine plywood alternatives.
2. Exterior Grade Plywood
The term "exterior" means this type of plywood is intended for outdoor or exterior use. But, of course, it can also be used for interior purposes. Being designed for exterior use, the surface of this plywood is typically not very smooth and is not free of visual defects.
By coating it with 100% waterproof glue, sealant, and high-quality varnish or paint, this plywood can still be used for outdoor building constructions that will be permanently exposed to all kinds of weather conditions. But since you can see the surface defects with your naked eye, it is wise to choose the best plywood in the lot if you will use it to build a boat.
3. Fiber Cement Board
Another good marine plywood alternative is fiber cement board. This material is made by combining wood fibers and cement. Like the fiberboard material, the FCB uses small wood fibers. But this time, instead of glue or resin, cement is used to bond the wood fibers together.
The resultant product is also strong, durable, and moisture resistant. This material is now used in building exterior walls, ceilings, cabinets, and many more. Being highly versatile, it is used in different applications, including boat building.
Its greatest advantage over other similar materials is its lightness. Compared to solid hardwood, FCB is very light. But it is still a long-lasting wooden board material. It is also highly flexible and easily workable. You can use it for curved surfaces, just like in some curved parts of a boat or the boat flooring.
FCB can be used as a paneling material for different kinds of construction. It can be used for interior as well as exterior walls. The combination of wood and cement makes it a good alternative to marine plywood for making boat floors, walls, and anything that needs to be moisture resistant.
4. Birch Plywood
Birch plywood is also an economical marine plywood alternative. It is suitable for boat construction purposes if it will be used to make boat parts that are not fully submerged in water all the time.
This type of plywood is made from premium B/BB grade timbers of Northern European Birch trees. These trees grow in cold climates and have close growth rings that make them exceptionally strong and durable. They are ideal for making cores and veneers for plywood. Their natural characteristics make Birch plywood ideal marine plywood alternatives.
5. Ribbon Grain Plywood
The name of this plywood is taken from the presence of what appears like grains in ribbon patterns on the surface of the board. A sheet of this material typically contains vertical stripes of grains running along the wood's length.
This plywood is remarkably smooth. There's no need for any changes after it is installed. This saves a lot of construction time, money, and effort since some of the building processes are already eliminated.
It is also a good alternative to marine plywood because it is strong. While it is less durable than marine plywood, its lower price and higher quality make it a good option. And it looks like real wood, even if it is actually made of wood veneers and cores. This is due to its natural wood cross-grains. The strength of this plywood is evenly distributed across the sheet, making it tough and durable.
6. Wax Resin Fiberboard
Another material that can be used in place of marine plywood is wax resin fiberboard. This is not a high-density material, but it can still hold its own in the boat building industry and other construction industries.
The process of making wax-resin fiberboard is quite similar to the others. It is not made wholly of wood. This material contains wax-resin that gives it more solidness and strength. In producing this board, fibers of softwood are mixed with wax resin.
Once the resin has bonded all the wood fibers together, the interim product is cut into several sheets. These sheets will then be subjected to high pressure and high heat to even out their surfaces. The resultant product is a wooden sheet that is strong, moisture-resistant, and is a good alternative to marine plywood.
There's another way of producing this kind of fiberboard. The process is called hydrogen bonding. Instead of resin, hydrogen is used to bond the small wood fibers together. In this process, the boards are held together and compressed, and the process of hydrogen bonding is introduced.
This process enables the natural lignin in the wood fibers to do its work in strengthening the final product. Lignin is the cementing or reinforcing agent that binds the individual fiber cells together. This process makes each resultant product unique and different from the others.
7. 3M Reinforced Polyurethane Foam Boards
3M has developed an alternative to marine plywood. They call it 3M Reinforced Polyurethane Foam boards. It is a rot-resistant and lightweight material that can be used in semi-structural and structural constructions.
The foam boards are reinforced with fiberglass so they can be used in marine applications. This material offers weight savings that range from 30% to 60% compared to conventional plywood. This makes it one of the best marine plywood alternatives.
These foam boards are available in different weights. The lightest is 15 pounds per cubic foot, and the heaviest is 28 pounds per cubic foot. They are also available in sheets or boards measuring 4 feet by 8 feet.
These sheets are perfectly straight and level. They are easy to work with, and they do not tend to warp. Conventional plywood is prone to chipping and warping. There are no such tendencies with these 3M foam boards.
There are certain advantages to using these reinforced polyurethane boards. They are resistant to rotting. These boards also provide better adhesion compared to ordinary wood because their moisture content is very low.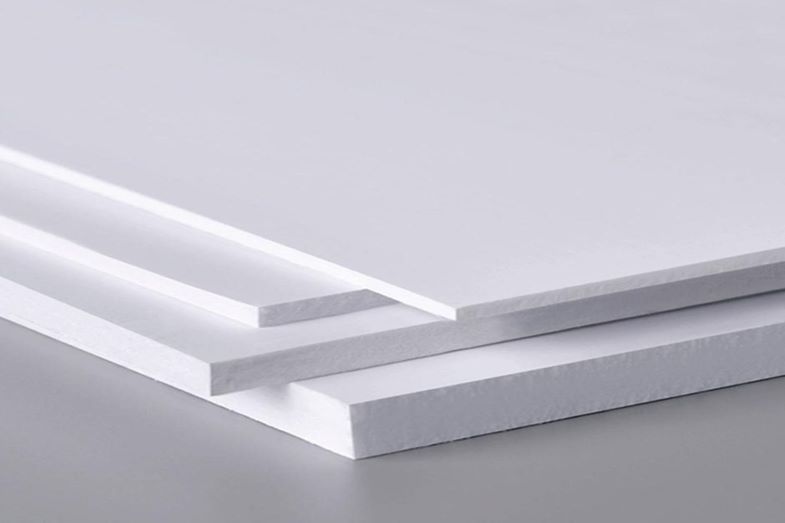 8. Thermo-Lite Board
Thermo-Lite boards are manufactured by Thermo-Lite Australia in partnership with Pacific Paint and Fiberglass. They claim that this material will revolutionize not only the boat building industry but all other industries that use plywood as the default material.
These boards, says the manufacturer, has all the features and advantages that builders of all kinds are looking for. They are rot-free, lightweight, and strong – thus offering excellent lifetime performance.
A Thermo-Lite executive claims that their boards can be used in many applications. It is good for DIY aficionados who are searching for the right solutions to refurbish, upgrade or repair their boats, home or motorhomes.
These boards are made of non-absorbent materials, which makes them dimensionally stable and extremely durable. They have good impact strength; they provide excellent bonding surfaces and are resistant to high temperatures and contamination.
Therma-Lite boards are available in sheets or pre-cut parts, or kits. They are made in different thicknesses ranging from 0. 23 inches to 1.97 in. (6 mm to 50 mm). The sheets come in sizes of 60 in. wide and 141 in. long (1510 mm wide and 3580 mm long). Their densities range from 19.98 pounds per cu. ft. to 39.95 lbs./cu. ft. (320 kilograms per cubic meter to 640 kilograms per cubic meter).
9. King StarBoard
The manufacturer of King StarBoard claims that they are the original producer of marine-grade high-density polyethylene, and their plywood is the standard in the industry. Their boards are made through their proprietary process they call K-Stran. They say this process is the most advanced manufacturing method of making consistently flat continuous sheets.
Their boards can withstand the toughest marine conditions, so they claim, because they are environmentally stabilized. According to the makers, these boards will not discolor or rot like teak, oak, or other solid wood. Their laminates will not peel off like the laminates of other plywood.
You can use any conventional woodworking tools with these boards because they are very easy to work with, says its manufacturer. The installed cost of these boards is less than that of fiberglass and other conventional marine woods.
Certain maintenance work, such as refinishing and repair, is minimized since cleaning these boards is easy. Both sides of these boards have handsome matte finishes. They are made from the finest polymers using the K-Stran proprietary process to ensure excellent flatness and consistency.
They are ideal replacements for defective marine plywood installed on boats because they will not rot, splinter, swell or delaminate when exposed to the harshness of ocean weather and water conditions.
How You Can Waterproof Ordinary Plywood?
One affordable alternative to marine grade plywood is by using ordinary plywood and making it waterproof. You can do this because all plywood, including the marine type, are made with the same adhesive, Type A Phenolic Bond glue line – EO formaldehyde rating. This glue securely bonds the core and the ply veneer sheets together.
The quality of the glue line determines the degree to which birch plywood and marine plywood can resist moisture. All the edges of the plywood board must be protected and sealed by layers of oil/wax products, sealant, or water repellent varnish.
Thus, if you really want to use ordinary plywood for marine applications, all you need to do is to use good quality ordinary plywood. And then research the proper method of waterproofing it. Buy the required materials and follow the legitimate instructions on how to properly waterproof that plywood sheet.
Conclusion: Marine Plywood Alternatives
What is the best marine plywood alternative in the market? The most common alternative to marine plywood is fiberboard, also known as medium density board or MDB. This is a good choice because it is strong and very durable.
Its wet-resistant properties could be even more enhanced by sealing its surface with high-quality varnish, resin, and sealant.
The 9 best marine plywood alternatives include the following:
Fiberboard (Medium Density Board)
Exterior Grade Plywood
Fiber Cement Board
Birch Plywood
Ribbon Grain Plywood
Wax Resin Fiberboard
3M Reinforced Polyurethane Foam Boards
Thermo-Lite Board
King StarBoard
Related reading:
ACX Plywood [What Is It, Benefits, and Uses]