Getting rid of a broken or unused boat is easy if you find the right boat salvage yard. As a responsible owner, you won't just let it sink or rot. The best boat salvage yards present an eco-friendly solution.
A boat salvage yard is a place where you can bring old, wrecked, and non-functional boats and marine parts. They will recycle these parts, and in some cases, sell whatever they can save or repair. In addition, it is a place where you can buy metal scraps and second-hand boat components as well.
The best boat salvage yards in the U.S. and Canada that we will list in this article are as follows:
Florida
California
Texas
New York
Illinois
North Carolina
Louisiana
Virginia
Wisconsin
Ontario, Canada
British Columbia, Canada
Read on to learn more about boat salvage yards and a list of the best boat salvage yards in the U.S. and Canada.
What Is a Boat Salvage Yard?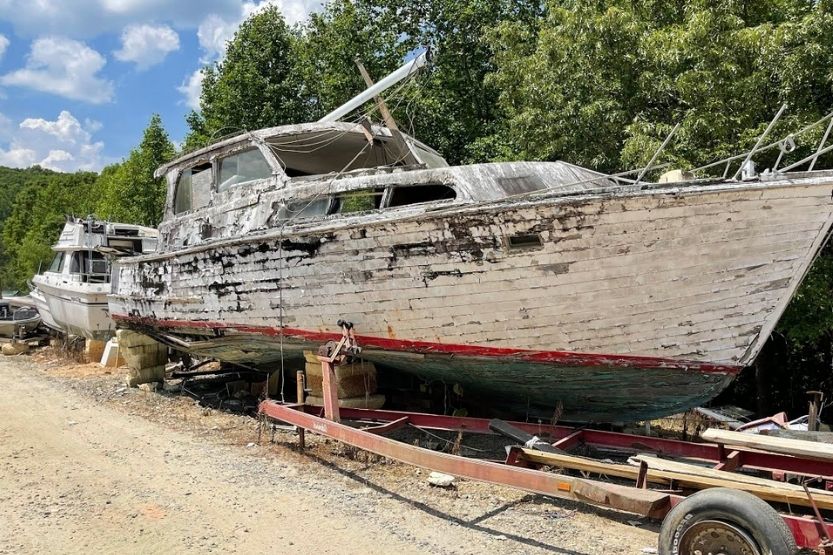 Got an old boat sitting in your garage or a marina for a long time now? Has your boat been recently hit by a hurricane or severely damaged by a storm? Throwing a non-functional engine? Or maybe, are you looking for second-hand marine accessories? Going to a boat salvage yard is one of the best things to do in all these instances.
In a nutshell, a boat salvage yard is like an automotive scrap yard. This is a place where you bring old boats and parts. They are often recycled or sold at a low price.
If you need metal scraps or second-hand marine components, a boat salvage yard is also a good place to visit. They have all sorts of boating equipment that you will need, including lights, engines, tables, and anchors.
It is more than just a depository of dilapidated boats. They are also offering salvage services. This means that they will be the ones removing the boat from its current location. You will have to pay them for this service, or they can pay you if whatever they have salvaged is still of value.
Salvage yards serve as temporary storage for boats. Once they are stripped of every usable component, they are sent to landfills. Some will retrofit the boats if they are still usable and sell them.
Best Boat Salvage Yards
From the United States to Canada, you will have several options for boat salvage yards. This section walks you through some of the best places that are worth checking out:
Boat Salvage Yards in Florida
Whether you are looking for new or used boats in Florida, this is one of the best places that you should check out. It occupies more than17 acres of space, making sure that there is something for everyone. Not to mention, the company has been operating since 1979. Over the years, it built a solid reputation in the state:
Address: 5601 126th Avenue North, Clearwater, FL, 33760
Contact Number: 1-727-576-8577
With its mission of making boating affordable, Sailors Exchange is a place where you can buy, sell, and trade marine equipment, including new and second-hand boats. From lights to electrical panels, they have almost everything that boating enthusiasts will need. More so, they have hard-to-find items that are not on their website but available in their physical shop:
Address: 222 West King St., St. Augustine, FL, 32084
Contact Number: 1-904-808-0667
The world's largest marine emporium – this is how Sailorman positions itself. They have tons of nautical treasures that you won't find anywhere else. From sailing dinghies to catamarans, they have secondhand boats that will fit every budget. Their shop is more like an antique store than a traditional marine equipment outlet:
Address: 3000 South Andrews Ave., Fort Lauderdale, FL, 33316
Contact Number: 1-954-522-6716
Boat Salvage Yards in California
The name speaks for itself. The company is committed to moving boats from marinas, homes, and other places. They have various demolition equipment for proper vessel disposal while making sure of minimal environmental impacts. To add, they provide insurance certificates to speed up the filing of liability coverage:
Address: 6996-A Mission Gorge Road, San Diego, CA 92120
Contact Number: 1-619-582-0700
With over six decades of experience, this is another notable company to consider if you need boat salvage in California. While this isn't one of those places that will retrieve and buy a used boat, they sell all kinds of stuff you will find in a marine yard. From spinnakers to winches, they got your yachting needs covered:
Address: 1500 Newport Blvd. Costa Mesa, CA 92627
Contact Number: 1-949-548-4192
If you are looking for affordable boating equipment, this is a great option for a marine scrap yard. From vintage deck gear to diving equipment, they have a lot of things for boaters. Unlike a traditional salvage yard, however, they do not buy old or non-functional boats:
Address: 16811 Pacific Coast Hwy., Sunset Beach, CA 90742
Contact Number: 1-562-592-1752
Boat Salvage Yards in Texas
From boats that have sunk to bad engines, this company buys almost anything. Aside from boat removal, they offer a wide array of other services, including boat hauling. Plus, their website has a diverse inventory of pre-owned boats and parts if you are looking for cheap marine supplies:
Address: 21010 Mockingbird Ln, Spicewood, TX 78669
Contact Number: 1-210-601-6118
Best Boat Salvage Yards in New York
Whether you have a jet ski, sailboat, or powerboat, this is one company worth checking out. They will remove complete boats at no cost. The company even pays cash to boats that are made from 1995 or newer. More so, they are selling boat parts, including outboards, outdrives, and trailers.
Address: 14 Deer Park, NY, 11729
Contact Number: 1-631-544-8000
Boat Salvage Yards in Illinois
While they do not buy boats, they purchase almost any scrap, especially in bulk. Before throwing anything away, you might want to check out with Southcentral Outboards if they can still buy it:
Address: 14 North 2nd St., Altamont, IL, 62411
Contact Number: 1-618-9499
Boat Salvage Yards in North Carolina
At Bull's Marine, they will send a representative to evaluate your boat. They will look at the vessel and the engine to determine what can be done and assess its value. After inspection, the company will come up with a fair price and recycle whatever they can save. They also sell cheap marine parts for those who are planning to build or modify a boat:
Address: 1315 Turner Rd., Lexington, NC, 27292
Contact Number: 1-336-413-8882
Boat Salvage Yards in Louisiana
One of the largest dealers of used boats in Louisiana, The Boat Yard has more than 200 vessels in its inventory. They have center consoles, bays, and almost everything a boating enthusiast needs. They also pay cash on the spot for boats that they salvage. Plus, they offer a 100% free consignment program if you want to sell:
Address: 6440 West Bank Expressway, Marrero, LA, 70072
Contact Number: 1-504-340-3175
Boat Salvage Yards in Virginia
If you need help refloating sunken boats or emergency response, Potomac Marine can extend a helping hand. Aside from their salvage services, they also sell boats from some of the most popular brands, such as Honda, Volvo, and MerCruiser. And they provide boat towing services if you need help transporting your vessel to a salvage yard:
Address: 16229 Neabsco Rd., Woodbridge, VA 22191
Contact Number: 1-703-670-0080
Boat Salvage Yards in Wisconsin
Operating for more than 30 years, this company has a wide selection of boats that fit every budget. They sell a wide array of second-hand parts, including those from salvaged boats. They have an expansive 200,000 square feet showroom. Financing options are available if you find the prices of their junkyard boats quite high:
Address: 830 E Green Bay St., Shawano, WI, 54166
Contact Number: 1-920-445-8995
Best Boat Salvage Yards in Canada
Whether fiberglass or aluminum, big or small, Kawartha Marine provides salvage services in Ontario. It offers a green solution for those who would like to dispose of their boats. Alternatively, the company also sells used boat parts, including those from their salvages. The company does its best to save boats, making sure they do not end up in landfills!
Address: 9 Wychwood Crescent, Fenelon Falls, Ontario K0M 1N0
Contact Number: 1-705-559-4191
For four decades, the company has been offering a complete boat recycling solution. From salvages to sales, they help boaters make the most out of their old vessels while offering a wide selection of used marine equipment. They also provide short and long-term boat storage:
Address: Salmon Arm, British Columbia
Contact Number: 1-205-306-7892
One of the biggest marine retail outlets in the Sunshine Coast, The Bitter End Exchange, offers new and used equipment. If you are constantly hunting for new nautical treasures, you might find them in their store. At the same time, if you want to sell any old boat equipment, they can offer good prices:
Address: 1044 Seamount Way, Gibsons, British Columbia
Contact Number: 1-604-886-3326
Why You Should Bring Your Boat in a Salvage Yard
Below are some of the most compelling reasons to bring your old boat to a salvage yard:
1. It Is Good for the Environment
Old boats are serious environmental hazards. Oils can leak, and their parts can damage the coral reefs. They will negatively affect water quality and harm aquatic life. Do not let it stay on the water longer than necessary. After reaching the end of its service life, get in touch with a boat salvage yard.
2. It Frees Up Space at Homes and Marinas
Boats are space-consuming. It is best to get rid of the boat if it is no longer functional but still sits in a marina, garage, or yard. This is another instance when boat salvage yards are beneficial.
3. It Is a Way to Earn Extra Money
While you might not make a lot, some salvage yards will pay you for anything valuable that the vessel still has. You won't earn a fortune, but it is still better than not having anything at all from a boat that you no longer use.
4. It Avoids Legal Troubles
Depending on where you live, you can get in trouble for leaving your boat in the water or for improper disposal. Be responsible and avoid legal problems by bringing the boat to a salvage yard.
Tips for Finding the Best Boat Salvage Yards
The options are plenty, but they are not all the same. To help you narrow down your choices, take note of these tips:
Look for salvage yards nearest your location or wherever the boat is. It is difficult to transport boats in long distances. Some scrap yards will charge exorbitant fees to shoulder the cost of transit;
Research the credentials of the boat salvage yard. Go online, read reviews, and learn from the real-life experiences of other boaters. See to it that they have permits. Make sure that they practice responsible handling and disposal;
Find one that offers the best bang for the buck. Negotiate the terms. Try to sell anything that is still of value in your boat;
Visit their website. If your goal is to buy used marine equipment, visiting their online store is convenient. This is an easy way to look for available items instead of physically buying in-store; and
Be clear about the terms and conditions. In many instances, there are hidden costs. You might end up surprised knowing the high charges, especially the retrieval fees. So, make sure that everything is in writing.
Conclusion – Boat Salvage Yard
When boats reach their end of life or if you want to get rid of a non-functional marine component, salvage yards are to the rescue. Depending on the condition of the boat, you can even receive payment. In some instances, however, you have to pay the salvage yard for their service. This includes the retrieval of the boat.
Some people might think of just leaving their boat in the water once it is no longer useful. This should not be the case. It is not only against the law, but it is also harmful to the environment. Instead, look for a salvage yard and give old boats new life. Some can still be recycled, especially if there are useful parts.