Most houseboats sit on the water all the time. But if you want to enjoy different bodies of water, you will need a houseboat that you can pull with a trailer – a trailerable houseboat. What is a trailerable houseboat?
Trailerable houseboats are houseboats that are small enough to be carried by a trailer so that they can be taken out from and back into the water. Their lengths usually do not exceed 30 feet, and their average weight can range from 3,500 to 9,000 pounds.
Trailerable houseboats are typically much smaller than standard houseboats. Their living spaces are smaller, and their home features are typically fewer. They are ideal for those who only want to enjoy living on the water occasionally and not full-time.
Three of the best trailerable houseboats are CaraBoat, Catamaran Cruiser, and Boat A Home.
Read on to learn more about trailerable houseboats, their primary advantage, important things you need to know about them, and a list of the best trailerable houseboats available in the market.
Trailerable Houseboats
Trailerable houseboats are generally smaller than regular houseboats. That makes them small enough for you to carry them by trailer. You can transfer them from place to place, just like any trailerable boat. The lengths of houseboats usually do not exceed 30 feet. Their weights usually range from 3,500 to 9,000 pounds.
Being smaller than regular houseboats, their living spaces are also smaller. They also have fewer home features. But their big advantage over regular houseboats is that you can transfer them from place to place.
So if you are already tired of the waters where your houseboat is currently sitting, you can pull it out from the water and put it on a trailer and pull it with your pickup truck and carry it to a new body of water that you haven't been before.
But always remember that houseboats (trailerable), no matter their size, are not for the oceans. Their design cannot take the rough pounding of the sea. You can use houseboats on rivers, lakes, and at most inter-coastal waters. If you really want to live in the sea, you need a more powerful, bigger, and structurally stronger boat.
Main Advantage of Trailerable Houseboats
The majority of the houseboats made are designed to sit in the water all the time. This then poses some limitations to those who wish to live in them. You need to have one or more of the following:
A dock at your house
If you don't have a dock, you have to pay for a place to moor your houseboat
You have to live on the boat all the time
You won't have to worry about any of these things if you will choose a trailerable houseboat. That is one of its primary advantages over the standard houseboat.
Another advantage of the trailerable houseboat is that because it is smaller, its first cost is definitely lower as well. To maintain and repair a standard houseboat, you will need about $100 per month. All things considered, the first cost and the cost of maintaining a trailerable houseboat should be lower.
The idea for small trailerable houseboats is that you can use them occasionally and not all the time. So, if you intend to live aboard the boat all the time, you will be better off with a regular houseboat. However, if you want to experience different bodies of water, a suitable trailerable houseboat is your way to go.
What You Need To Know About Trailerable Houseboats
What are the important things that you need to know about trailerable houseboats? You need to know these things to determine if it is the type of boat is that will suit your intent and your lifestyle:
1. Type of Vehicle Required
With the smaller size of trailerable houseboats, you don't need a big truck to pull them. You can safely use even a small pickup truck to pull a houseboat off the water. Standard SUVs and other similar vehicles will surely be able to handle this payload.
2. Average Size and Weight of Houseboats
Most trailerable houseboats usually have lengths that stretch no more than 30 ft. Their minimum length is around 20 feet. The weight of trailerable houseboats can be anywhere from 3,500 to 9,000 pounds.
3. Size of Engine Required
Outboard engines power the majority of trailerable houseboats. These engines are easier to maintain. Most of these boats are powered by engines with horsepower that range from 40 to 150. Four-stroke engines are preferred because they are fuel-efficient and are clean.
Engine brands ideal for trailerable houseboats include the following:
Honda,
Yamaha,
Evinrude,
Mercury, and others.
With these engines, your houseboat can go slow or get up on a plane easily and then fly.
4. Accepted Material Construction
Manufacturers of trailerable houseboats may use different materials and a combination of them for their frame and body. These materials may include wood, steel, fiberglass, and aluminum or a combination of one or two of these materials. Each of these materials provides its own advantage and benefits.
5. Accepted Application
You can use trailerable houseboats for different kinds of boating activities. You can use them for a family weekend on the water, camping, and fishing. But you can only use trailerable houseboats on rivers, lakes, and intercoastal waters. It is not advisable to use trailerable houseboats in the open sea.
6. Is New Better Than Used?
This depends on your budget. Brand new trailerable houseboats are definitely more expensive than used ones. If you have a limited budget and found a good used one with many years still left in it, that is your best option. Just be sure that all its important parts and features are working efficiently.
7. Reputable Trailerable Houseboat Builders
Some of the more reputable builders of trailerable houseboats include Lil' Hobo, Catamaran Cruisers, Adventure Craft, Travelwave, and Nomad. These are the houseboat brands that are popular in the market.
8. Is a Trailerable Houseboat Good for a Newbie?
Some say that the market for used trailerable houseboats is big. So, purchasing a small trailerable houseboat is safe. If you want to upgrade to a bigger unit, it will not be difficult to sell the smaller one.
Again, what are the trailerable houseboats? Trailerable houseboats, as the name suggests, can be taken in and out of the water using a trailer. Their maximum length is 30 feet, with an average weight ranging from 3,500 to 9,000 pounds.
Best Trailerable Houseboats
Many boat makers in the United States have been building trailerable houseboats for many years. Some of the most popular brands in the market are CaraBoat, Lil' Hobo, and Boat A Home. These three boat makers have already built a good reputation for the quality and durability of their boats.
1. CaraBoat
Trailerable houseboats built by CaraBoat have vertical heights that are no higher than the average off-road camper. Their boats are also aerodynamic and streamlined to make them easy to tow. But they also handle beautifully on the water.
These houseboats are also designed to optimize their living spaces and provide comfortable amenities to a maximum of four people. They are fully trailerable, straightforward to transport, and cheap to maintain since they are not always sitting on the water all their lives.
The common features of CaraBoat's trailerable houseboats are the following:
Shallow draft allowing you to go to more secluded spots on the water
Easy access on water and land
Deluxe and stylish interior
Panoramic viewing with windows that can be fully opened
Excellent handling and very stable on the water
There are two models of CaraBoat trailerable houseboats. They are:
CaraBoat 790
This is the newest trailerable model of CaraBoat. It has an overall length of 7.9 meters or 26 feet. It enhances the traditional design of CaraBoat. While it is almost identical to Model 870, having the same internal layout and standard features, Model 790 has only one engine. The result is a more usable deck space and storage.
CaraBoat 870
This CaraBoat trailerable houseboat is slightly bigger than Model 790. The overall length of Model 870 is 8.7 meters or 28.5 feet. It has a similar internal layout as Model 790. But because it is bigger, there is an additional rear deck space of 1.2 meters. You can use this space as a living space or for storage.
You can lift the rear roof of this boat to give you rooftop access. Its under deck storage space is also considerably bigger than that of the Model 790.
Below is a video showing how functional a CaraBoat trailerable houseboat is in the water and on land. This video also shows the useful features of this boat that make it a good venue for pleasure trips on the water:
2. Catamaran Cruiser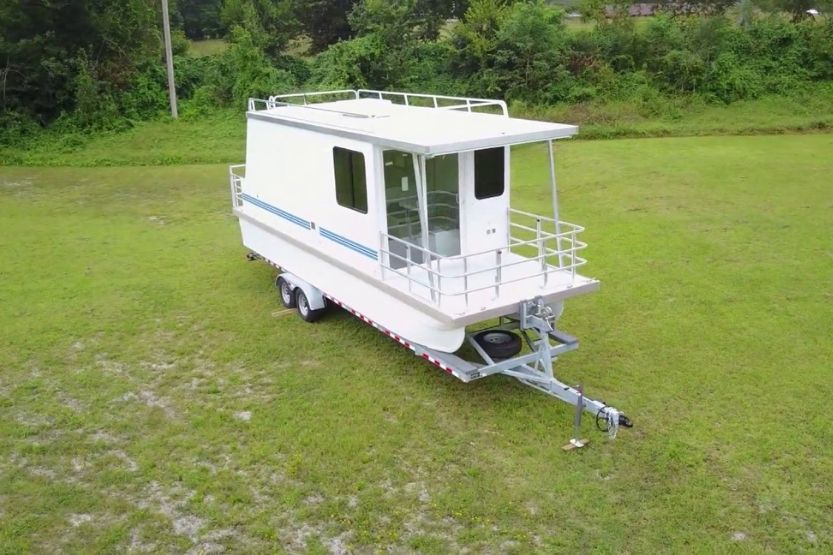 Catamaran Cruiser is another boat builder that makes quality and durable trailerable houseboats. They are selling their boat factory-direct. This ensures that their customers get the most attractive boat prices in the market.
Their most popular model of this type of boat is the 8' x 31' Lil' Hobo Trailerable. This particular boat model is popular because of its 2-for-1 value. You can trailer it as an RV to any campsite within your reach.
On the water, you can cruise it safely and efficiently on any secluded cove. Catamaran Cruiser has been building these kinds of boats for over 25 years. So, this 31 footer is really efficient, strong, and durable.
Ease of use and simplicity went into the design of this boat. You will be able to appreciate its well-organized helm, its home-like amenities, and its very reliable outboard motor. The boat has only one deck level offering its users ease of movement.
Home amenities include the following:
Residential size showers,
Sinks,
Toilets, and
Refrigerators.
You can take this trailerable houseboat even in very shallow waters without worrying about what's beneath because its draft is only 18 inches.
The maintenance of this boat is just minimal. Its vinyl floor surfaces are gel-coated. Dirt that is lodged on their surfaces can be easily wiped out. There's no use bringing in lots of maintenance tools and equipment.
Two Yamaha four-stroke outboard motors power this boat. They are very fuel-efficient and are very economical to operate.
3. Boat A Home
Another reputable builder of trailerable houseboats is Boat A Home. They have been making these kinds of boats for more than a decade now. Also, they are one of the leaders in this industry, and they love to innovate and improve their boats continuously.
Boat A Home claims that their trailerable houseboats offer the latest in boating and caravan travels. Their boats are ideal for those who want to travel by land and water and carry their boat to a secluded spot and camp there for a weekend or even a full week.
This boat can accommodate three people sleeping but can accommodate as many as six people during the day. These boats are perfectly safe on the water and are easily transported by land. A standard pickup truck can easily pull it from and back into the water.
A Boat A Home trailerable houseboat maximizes its interior space. During the day, the deck space is used as a lounge. At night this same space converts into a cozy double bed. The boat also has a dinette table. This table is converted into a single bed at night.
Additionally, this boat is fitted with all the comforts of home. There is also a 19-inch high-definition LCD TV complete with a DVD player. The boat has an open plan living space and a sun deck, providing lots of space for its passengers.
A single 40 hp propels this boat: Suzuki four-stroke, fuel-injected engine, which you can upgrade to 80 hp. Installing two outboards is also an option. With the 40 hp outboard, you can already cruise the waters at 25 knots.
There are four trailerable houseboats models of Boat A Home. They are:
Quest 7.9 meters
Quest 7.6 meters
Escape 6.9 meters
Escape 7.6 meters
Escape 7.9 meters
Conclusion: Trailerable Houseboats
Trailable houseboats are houseboats that are small enough so that they can be carried by trailer. In that way, they can be pulled out of the water and taken back into the water, just like any trailerable boat. The lengths of houseboats don't usually exceed 30 feet. Their average weights typically range from 3,500 to 9 000 pounds.
Related reading: