Disclosure: We may get commissions for purchases made through links in this post.
It's easier than ever to sail around the world with the sailboats available nowadays. It can, however, be quite an overwhelming search trying to find the right boat for the job. What are the best sailboats for sailing around the world?
We have narrowed down the 10 best sailing around the world boats. Our 10 picks are as follows:
Beneteau Oceanis 46.1
Island Packet 349
Neel 51
Wauquiez Pilot Saloon 42
Arcona 435
X-Yachts X4.9
Figaro Beneteau 3
Hylas 48
X-Yachts Xp55
Lagoon 50
These sailboats provide comfort, performance, and dependability, which are all important features for your journey. Read on to learn more about the best sailing around the world boats, including their dimensions and key features.
Also, if you plan on sailing around the world, an inflatable paddle board is the perfect toy to enjoy the water when anchored:
Click here to see it on Amazon.
10 Best Sailing Around the World Boats
1. Beneteau Oceanis 46.1
The Beneteau Oceanis 46.1, with a stepped hull design, is the most popular model Beneteau Boats has ever manufactured. Not only did the Beneteau company incorporate the best qualities of their previous masterpiece, Oceanis 45, to Oceanis 46.1, but also, they increased the overall performance, design, and quality of the boat.
Oceanis 46.1 offers more space by adding a taller mast and deeper lead-bulb keel, in which both provide 28% more sail area. The company also released a 'First Line' edition wherein both speed and comfort can be experienced. From a roomy and functional cockpit to an enormous forward owner's cabin, the Oceanis 46.1 lets you sail in luxury and comfort – perfect for sailing around the world.
Oceanis 46.1's LOA and LWL are 47'11" (14.60m) and 43'5" (13.24m), respectively. It has a hull length of 44'9" (13.65m). Its standard power engine is a Yanmar diesel with 57 HP, while there is an option engine Yanmar diesel with 80 HP.
This model comes with 5 different layout versions: 3 cabins 2 heads, 3 cabins 3 heads, 4 cabins 2 heads, 4 cabins 4 heads, and 5 cabins 3 heads. This model allows you to sail short-handed and allows you to control the winches from aft.
In terms of design, its interiors below deck are covered with brushed light oak veneer. You can also find wide sunbeds with separate shower and heads compartments. It is equipped with large hull portholes, allowing natural light into the saloon, making it spacious and comfortable below the deck.
See the below video to get a walkthrough of the Beneteau Oceanis 46.1:
2. Island Packet 349
The Island Packet 349 was crowned by the Cruising World as the 'Best Midsize Cruiser Under 38 Feet.' [1] It provides passengers safe and comfortable long-haul sailing and cruising despite bad weather conditions.
The IP 349 is designed as a two-cabin boat wherein the single head offers a separate shower compartment that is unique to boats under 38 ft. It comes with a complete set of furniture— refrigerators, a pull-out spice rack cabinet, under-counter storage for dry goods, numerous SS overhead and bulkhead mounted handholds, and much more. The saloon also has an L-shaped built settee to port, while the dining table can be folded away when not in use to provide more space.
The Island Packet 349 has an LOA and LWL of 38' 3" (11.65m) and 31' 5" (9.58m), respectively. The beamwidth is 12' 6" (3.81m), while the draft is 4 feet (1.2m). It can carry up to 55 gallons of fuel and 100 gallons of water. It is equipped with a powerful engine of Yanmar diesel with 45 HP, which can travel a distance of 500 miles at a cruising speed of six knots.
The IP 349 has a 32-foot waterline that gives a nominal hull speed of around 7.5 knots. With its full keel, 20,000 lbs displacement, and a ballast-to-displacement ratio of 39%, this model is safe to navigate in sea conditions.
3. Neel 51
Number 3 in our list of best sailing around the world boats is the Neel 51. This trimaran had grown popular among its customers when it was launched after the successful Neel 45 and Neel 65 flagship. This model is favored by the majority for its wide deckhouse. The double headsail rig, controlled by Harken 52 winches, is easily accessible within reach from the helm.
But there is visibility restriction from the helm by the headsail, which is a common problem with multihulls. If you want to hang out and relax, there is a large and comfortable lounging area found next to it. The below deck comes with two center-hull cabins equipped with separate head/shower. The Neel 51's trim is in Alpi wood and flooring in a hard-wearing polyester material.
The Neel 51 has an overall length of 51 feet (15.6m) and an overall width of 29 feet and 18 inches (9.2m). It has a 90sqm live-aboard space and an 18sqm tender garage technical room. It is equipped with a Volvo diesel inboard engine with a 75 HP sail drive.
It can carry up to 160 gallons (600 L) of water and 160 gallons (600 L) of fuel. The Neel 51 has excellent directional stability and can be driven easily. It has no problem sailing from 6-7 knots up to 10-11 knots of breeze, raising its boat speed.
4. Wauquiez Pilot Saloon 42
The Wauquiez Pilot Saloon 42 is the 4th and smallest monohull model in the Wauquiez Pilot Saloon series. What stands out with this model is its modern and semi-minimalist design. It has predominantly white interiors, giving it a clean and spacious look, while brightly lit LED lights surround the saloon. The design is meant for max comfortable cruising for long ranges, from country to country, or even take it around the world.
The Wauquiez Pilot Saloon 42 is powered by a regular Yanmar diesel engine with 57 hp, which also has a larger alternative option, the 80hp Yanmar diesel engine. The Pilot Saloon 42 has an overall length of 42'6" (12.99m) and beam width of 14'2" (4.34m) that covers 973 sq. ft. (87 sq. m) of sail area at 100%. It has 110 gallons (416 L) of fuel capacity and 162 gallons (613 L) of water capacity.
The Wauquiez Pilot Saloon 42 is equipped with a twin rudder system at the stern, allowing its passengers to easily control and steer it on upwind courses because of its excellent grip in the water. The Wauquiez PS42 can sail up to 12-16 knots on onshore wind and rarely goes below 7 knots.
5. Arcona 435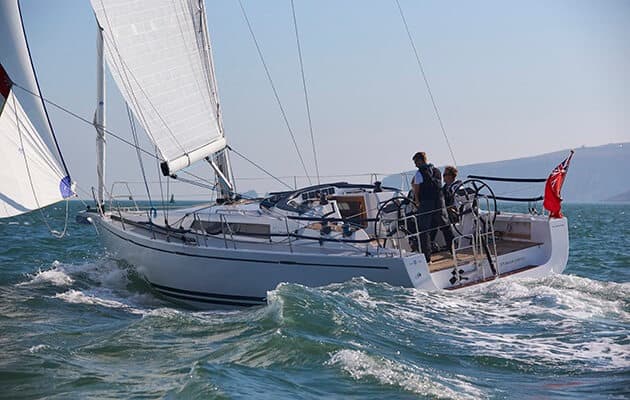 The Arcona 435's blueprint was incorporated from the Arcona Yachts' successful predecessor, the Arcona 430. With its improved up-to-date design and performance, the Arcona 435, a monohull offshore cruiser-racer sailboat, outweighs its predecessor by proving to be a fast and easy-to-manage 43-foot performance cruiser and one of the best sailing around the world boats. It is equipped with a lead bow and a wider stern, more space in the saloon, and an enormous cockpit while providing more stability.
The Arcona 435 was designed to offer exceptional performance without sacrificing the comfort below deck. Below the deck, it has a traditional, light Scandinavian design featuring quality woodwork. It offers its passengers the freedom to move with its large saloon and spacious kitchen while having 3 comfortable double cabins (one forward and two aft) without restricting space for sleeping and storage.
The Arcona 435's LOA and LWL are 43'4" (13.2m) and 40' (12.1m), respectively, while it has a beamwidth of 13'1" (4m). It can carry a maximum of 47.6 gallons of fuel, at the same time, a maximum of 79.3 gallons of water. It is powered by a Yanmar JH45C inboard diesel engine with 45 HP, and its hull speed is at 8.48 knots.
6. X-Yachts X4.9
Number 6 on our list of best sailing around the world boats is the X-Yachts X4.9 – the third model launched in the new 'X' series. This model aims to showcase a comfortable and stylish interior without compromising performance. Its interior design has a mix of both exquisite looks and practicality.
On the deck, from bow to stern, are pinstripes of full teak. With 4 electrically powered winches, this boat makes it easier to handle. All of the 4 winches are placed at the back of the cockpit, making the lounging area clean, with no ropes in the way.
The below deck of the X4.9 is exceptionally designed. Down to its Nordic oak finish and U-shaped sofa, it looked warm and comfortable to live in it. The L-shaped galley has white Corian worktops with a stove cover, a double sink, and a space for a fridge, microwave, and espresso machine.
The forward owner's cabin has bed-level hull windows featuring a minimalist concept with a large island bed and a thick mattress, including a separate shower compartment.
It is designed with an overall length of 49'7" (15m) and a waterline length of 44'5" (13.58m) while having a 14'7" (4.49m) beamwidth. It covers a 1,290 ft2 (129.1m2) sail area and has a carrying capacity of 66 gallons (300 L) of fuel and 68 gallons (310 L) of water. The X4.9 is powered by a diesel engine with 57 HP (42.5 kW).
7. Figaro Beneteau 3
The Figaro Beneteau 3 is the first foiling one-design monohull. It is a game-changer like its successful predecessor, the Figaro Beneteau 2. The FB3 is primarily built for people wanting a classic single-handed race. This model is exceptionally light and very sensitive for its size.
The FB3 is designed to have a light helm, which is needed in long offshore races as well as for single or double-handed racing. The Figaro Beneteau is built for speed, but it can be great for sailing around the world, especially if you want to sail around the world fast.
The Figaro Beneteau 3 is a monohull single-handed racing sailboat with an overall length of 35'7" (10.89m) and a waterline length of 31' (9.46m). It has a beamwidth of 11'5" (3.48m) while its waterline beam width is 8'2" (2.50m).
On the upwind sail area, it covers a total of 752 sq. ft, while on the downwind sail area, it can cover up to 1555 sq. ft. It has a hull speed of 7.28 knots that can carry up to 11 US gallons (40 L) of fuel. It is powered by Nanni Diesel N3 inboard engine with 21 HP.
8. Hylas 48
The Hylas 48 is named by the magazine Cruising World as the 'Best Full-Size Cruiser Under 48 feet'. [2] It is built with a solid stainless-steel stem fitting and double anchor rollers— intended and equipped for the long haul. It also is characterized by solid hand-laid fiberglass with a lead fin keel. This model provides a self-tacking jib for upwind sail and a mounted-forward Genoa for off the wind (downwind sail).
The H48's layout is traditionally designed, and that is having a cockpit at the center, with a large dining table occupying the saloon with U-shaped seating to port, and a cushioned bench on the centerline. The H48 offers a range of options for customization, depending on the customer's preferences. The interior finish options available are teak, light oak, and maple.
A Yanmar 75 HP turbo diesel fed by a dual Racor fuel filtration system powers the Hylas 48. This model can travel 8.1 knots at 2,400 rpm and can reach 8.9 knots at 3,100 rpm. It has an overall length of 48' (14.6m) and a waterline length of 42' (12.8m). Its beam width is 14'6" (4.4m), and its draft width is 6'6" (2m). It can carry up to 290 gallons of fuel and 119 gallons of water.
9. X-Yachts Xp55
Another X-Yacht is included in our list of best sail around the world boats. It is the Xp55, a sibling of the X4.9, that is also mentioned in this article. The Xp line focuses on the performance of the boat. This Xp model has a mix of fiberglass and carbon fiber in its hull structure, absorbing rigs and engine loads. There are 3 keels available: a standard 9'4" (2.84m), a deep 10'6" (3.2m), and a shallow 8'2" (2.49m).
The Xp55 has two owner's cabin layouts and a choice of double or triple heads. The interior standard finish is a touch of holly floorboards with teak furniture. On the other hand, there is an option for another style of interior design – a touch of brushed oak wood on the furniture with walnut floorboards. Common to many sailboats is a large U-shaped sofa found in the saloon that can accommodate up to 8 people.
The Xp55's LOA and LWL are 56'6" (17.23m) and 48'9" (14.87m), respectively, while its beam width is 15'8" (4.77m). The Xp55 is powered by a diesel engine with 110 hp (81 kW). It can also carry up to 123 US gallons (465 L) of fuel and 159 US gallons (600 L) of water.
10. Lagoon 50
Number 10 on our list of best sailboats for sailing around the world is the Lagoon 50, a catamaran sailboat. It has been named as the best multi-hull cruising boat in the 40 to 50 feet category. It features a sporty look, with an easy-to-handle rig and increased performance. This model does not compromise comfort while providing exceptional performance. It also features remarkable volume and comfort in the hulls.
The interiors, by Nauta Design, have a home-like atmosphere featuring innovative architecture. It has a retractable panoramic windscreen with a customizable wood finish, and lots of natural light entering the aft cabin, making it spacious and bright.
The Lagoon 50 has an overall length of 48'5" (14.75m) and a beamwidth of 26'7" (8.10m). It can carry up to 2×63 US gallons (2×240 L) of freshwater and 2×137 US gallons (2×520 L) of fuel. It is powered by the Yanmar 4JJH57 diesel engine with 57 HP.
Related reading:
How Hard Is It to Learn to Sail a Boat?
Average Boat Speeds: Sailboat, Pontoon, & Cruiser