If you're looking for the ultimate vacation getaway, a few days or a week on a cruise ship is the perfect option. When it comes to some of the best cruise ships, the Norwegian Cruise Line has plenty to offer, with more than 15 cruise ships and counting. Choosing the best Norwegian Cruise Ship to book a ticket on can be a challenge. I'm here to help!
What is the best Norwegian cruise ship? When analyzed based on ratings from traveler reviews, the best Norwegian cruise ship is the Norwegian Joy. Although it's not the newest ship in the NCL fleet, it had some fresh additions just last year, making it one of the best, if not the best, Norwegian Cruise ship.
Determining the best Norwegian cruise ship can also be tough because of the fleet's more than 15 ships. The kind of traveler you are would play a significant role in your choices, and of course, your expected budget for the said cruise. Continue reading to know the features, amenities, and cost of the best Norwegian cruise ship.
What Makes Norwegian Joy the Best Norwegian Cruise Ship?
1. It's a Big Cruise Ship
With a passenger capacity of 3,804, not to mention its 1,821 crew members on board, the Norwegian Joy is like a little community of travelers with just enough people to make a large neighborhood.
The Norwegian Joy was constructed in 2017 and got its first makeover in 2019. Then it was redeployed to cruise Alaska in the same year.
2. Offers Plenty of Accommodation
When it comes to accommodation, the Norwegian Cruise Line provides one of the bests out there. With the Norwegian Joy, you can enjoy an exclusive around-the-clock butler service plus a private sundeck when you book The Haven suites.
However, if you're on a budget and good with just the usual rooms, you can choose between balcony or oceanview staterooms. There are also suites available for booking. You may also want the Concierge Class, which includes a concierge service, of course, if you need one.
3. Extensive Menu of International Cuisines
Aside from the inclusive dining options when you book the Norwegian Joy, you'd find eight specialty venues that offer international cuisines from countries like France, Japan, and Italy, to name a few.
You'd also find three main dining rooms, including the casual spot Garden Café with its floor-to-ceiling windows, a gastropub called The District, and The Local Bar & Grill, which is open all day and all night long.
All in all, you get:
5 inclusive dining options
8 specialty venues
3 main dining rooms
One thing is for sure–you won't go hungry on board the Norwegian Joy!
4. Family-friendly Activities and Amenities
One aspect that makes the Norwegian Joy the best Norwegian cruise ship is that it has plenty of activities that families can enjoy. You can go and play the racetrack, hit your kids at laser tag, splash on the two aqua parks available on the cruise, laugh with stand-up comedians, or watch the Broadway musical they offer.
There are also duty-free stores and boutiques available for shopping, a spa for relaxation, a fitness center to keep you fit, and a mini-golf if you want a different brand of relaxation and enjoyment.
5. Superb Destinations
So far, the Norwegian Joy has four port of calls from Los Angeles, Seattle, Miami, and Vancouver. The cruise ship then sails to the seas and islands of the Panama Canal, the Mexican Riviera, the Pacific Coast, across Alaska, and of course, the Caribbean.
Norwegian Escape: The Second Best Choice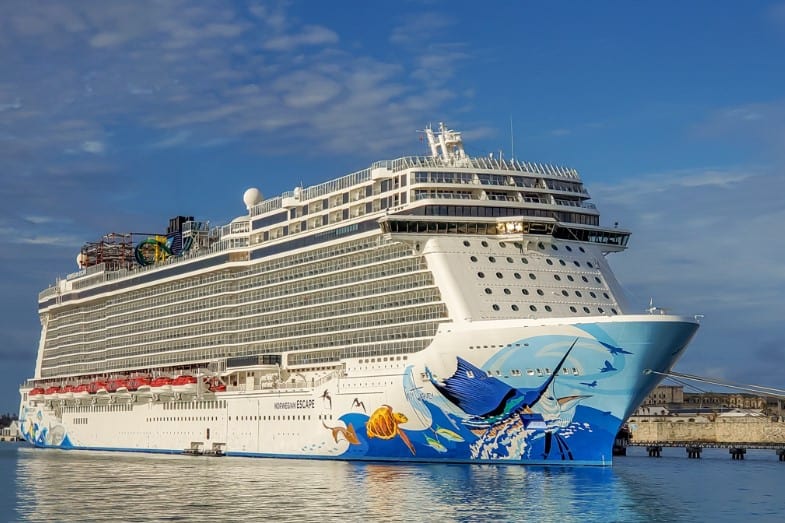 If Norwegian Joy is fully booked, what would be the second-best Norwegian cruise ship you can go to? Our answer is the Norwegian Escape.
Constructed in 2015, the Norwegian Escape is a little bigger than Norwegian Joy since it can carry 4,266 passengers. Add to that number the 1,733 crew members, and you'd probably think that the Escape would be a crowded cruise ship. Well, not really. Thanks to its spacious interior, the Norwegian Escape is an "extra-large" cruise ship that can accommodate not just its passengers but the amenities and activities available onboard.
The Escape is a definite contender for the best Norwegian cruise ship because it houses The Cellar, which is the first-ever wine bar from the whole fleet of the Norwegian Cruise Line. It also has more dining options, with a total of 18 (the Norwegian Joy only has 16), 11 of which are specialty restaurants, whereas the Norwegian Joy only offers 8.
Just like the Norwegian Joy, choices for diverse accommodations are readily available. There are studio staterooms for singles and solo travelers. For its activities, the Escape has aqua parks and age-appropriate clubs for both kids and the youth. Adults can get spa treatments, and entertainment includes live musicals, table games at the cruise casino, a lot of laughs at the comedy club, or just a good night out at the bar.
Other Norwegian Cruises to Try
If there's the best and the second-best Norwegian cruise ship, there are also three tiebreakers who made it to our top 3 list: Norwegian Bliss, Norwegian Pearl, and Norwegian Gem.
We made a quick table for you to compare the next Norwegian cruise you might want to hop on and experience.
| | Norwegian Bliss | Norwegian Pearl | Norwegian Gem |
| --- | --- | --- | --- |
| Cruise Size | XL | L | L |
| Year Built | 2018 | 2006 | 2007 |
| Refurbished | No | 2018 | 2015 |
| Passenger Capacity | 4,004 | 2,394 | 2,394 |
| Crew Capacity | 1,716 | 1,072 | 1,070 |
| Highlights | Kids' clubs; Racecar track; Laser tag; Virtual rollercoaster; Casino; Theater; 16 bars; 13 coffee shops; The Haven Restaurants | LifeStyle Room (card playing, bowling, basketball); Kids' clubs; Mandara Spa; Pearl Club Casino; 7 specialty restaurants; Cagney's Steakhouse; 24-hour bar and grill | 15 dining venues; 7 specialty restaurants; 24-hour pub; Sports courts; Spa; Pools; Kids' programs (aged 3-17); Country music concerts; Musical performance |
| Accommodations | One-person Studios; Penthouses; Thermal Spa Suites; The Haven Villas; Staterooms | Oceanview cabins; Balcony and Suite staterooms; The Haven | Oceanview and Balcony staterooms; The Haven |
| Price Point | $$ | $ | $ |
| Ports of Call | New York City; Vancouver; Seattle; Los Angeles; Miami | Quebec City; New York City; Miami | Boston; San Francisco; New York; Quebec City |
| Destinations | Alaska; Bahamas; Caribbean; Mexico; Pacific Coast; Panama | Caribbean; Canada; New England; Panama Canal | Bahamas; Bermuda; Caribbean; Canada; New England; Panama Canal |
Why Choose Norwegian Cruise
When it comes to the Norwegian Cruise Line, you won't go wrong with any of their cruise ships. It has 12 ports of call in North America and some of the world's most popular destinations, such as:
The Bahamas
The Caribbean
Bermuda
Mexico
The Mediterranean
Alaska
Northern Europe
A few days or so on a Norwegian cruise ship is going to make your whole vacation memorably enjoyable.
1. Ideal for Freestyle Cruisers
If you're a "freestyle cruiser," then the Norwegian Cruise Line is perfect for you because it provides plenty of things to do for both adults and families. You can enjoy it whenever you want without feeling limited or constrained by time.
2. Competitive Prices for First-timers
Also, Norwegian cruises have competitive prices compared to other cruises. They offer discounts if you happen to book at the last minute. Pretty cool, right? But try not to book your room at the last minute, though, or you might end up with the more expensive cabins on the Norwegian.
3. Pioneered Luxurious Staterooms and Accommodations
Speaking of rooms, Norwegian Cruise Line offers adjoining rooms that you can book together if you have a rather large group who would go on a cruise. So, if you happen to bring your whole family, your kids can have their own space, and you can have yours without any problem.
Aside from this feature, the NCL is also the first to add The Haven staterooms, a kind of cruise accommodation where you get to relax on your private sundeck, have a concierge service, and other perks that are not readily available in regular cruise accommodations.
4. Freestyle Dining
One of the things the Norwegian Cruise Line is proud of is doing freestyle dining. It is something that they pioneered where passengers can enjoy food without worrying about pre-assigned seating or eating only during fixed dining hours.
You can also dine al fresco. Just imagine, there's good food on your table and a glass of wine or champagne in your hand while getting your hair blown away by the salty wind as you enjoy a panoramic view of the ocean.
5. Plenty of Entertainment
If you prefer a lot of entertainment onboard, then the Norwegian Cruise Line will not disappoint you. You can take your pick from small music venues that play jazz or pianos or enjoy clubs that play the blues if you wish.
If you don't like these types of music, you can just go to the comedy troupe or enjoy a few hours of original productions onboard. If that's too boring for you, you can do rock climbing, go ice skating, skydive on a vertical tube, surf on a simulator, race on go-kart tracks, play laser tag, or try the ropes courses.
What Is the Best Norwegian Cruise Ship for You?
When it comes to choosing the best Norwegian cruise ship for you, your family, or your better half, size is a matter of importance. The reason is that a larger cruise ship will likely give you a complete holiday cruise experience with plenty of activities on board for both families or individuals alike.
Thus, we named Norwegian Joy as the best Norwegian cruise ship on the list since it ticks all the right boxes for the best cruise ship according to its size, amenities, and activities on board.
On the contrary, if you prefer more intimacy or to experience the feeling of a more exclusive cruise, settling for a smaller cruise ship might be for you.
How Much Does a Norwegian Cruise Cost?
While Norwegian cruises are less expensive compared to other cruises like the Disney cruise, you'd be spending as little as $179 or as much as $2,820. The price will still depend on how long your trip will be and the kind of accommodations you choose upon booking. Studio staterooms will also be far cheaper than the more exclusive suites like The Haven.
Norwegian Joy, for example, allows you to enjoy a 5-night cruise to the Pacific for as low as $223 if you book interior accommodations. A suite is a little more expensive at $384. The price can still change, given that some activities onboard require a fee, and some specialty restaurants require separate payments.
As a rule of thumb, Caribbean cruises, no matter the cruise line running them, are much cheaper to book between September to early January. The months April and May are also times when you're likely to strike a deal and chop off a bit from your cruise cost.
If you want to save, just enjoy the free activities included in your booking and avoid a lot of cruise shopping, which can be quite expensive.
Conclusion – What Is the Best Norwegian Cruise Ship?
So to revisit our first question: "What is the best Norwegian cruise ship?" Generally, most would consider the Norwegian Joy to be the best Norwegian Cruise ship that you can take.
The Norwegian Joy will not only fit the budget of first-time cruisers, but it's also a lot of fun and is the top choice among the 17 cruise ships of the Norwegian Cruise Line.
Related reading: