Going on a cruise is exciting, but choosing a cabin can be taxing. In this post, I will help you decide if you want a cruise ship cabin with a veranda or not. I'll also explain what a veranda on a cruise ship is as well as the different types of cruise ship verandas.
What Is a veranda on a cruise ship? The rooms on a cruise ship are called staterooms or cabins. Some have balconies that feature verandas. These verandas allow you to step outside your room and enjoy the view or get some air without venturing to the public deck.
The veranda is an extension of your stateroom or cabin that is exposed to the sea. You can open your door's cabin and step out to the veranda, where you can sit, relax, and enjoy the sea air.
Continue reading to learn more about what a cruise ship veranda is and whether a cabin with a veranda is worth the price.
What Is a Veranda on a Cruise Ship?
Staterooms or cabins with a balcony or a veranda cost more than ordinary cabins. Cabins with true balconies typically feature a veranda with chairs and a table.
Take note that French balconies don't have verandas, as they are only virtual balconies. There's also no space to sit or relax. So, make sure you're booking a true balcony with a veranda. You can choose a veranda that is appropriate for you or your group.
Types of Verandas
There are several types of verandas on a cruise ship which I'll list below.
1. Standard Veranda
A standard veranda provides a complete view of the horizon and is exposed to open air. It has guard rails and walls designed to maintain your privacy and keep you secure. Typically, it has a table and a chair where you can sit and rest.
2. Family Veranda
As the name implies, a family veranda is a type of veranda that is spacious and appropriate for families who want to enjoy the luxury and convenience of the open air. A family veranda could accommodate more people than the verandas of ordinary cabins or staterooms.
3. Whitewall Veranda
The majority of these types of verandas are in the aft area of the ship. They feature a solid wall from the deck up to the railing to ensure safety and increased privacy. The veranda is walled, but it is still open, so you can lounge in the open air and enjoy the fresh ocean breeze.
4. Sunset Veranda
Sunset verandas allow you to bask in the early sunrise and admire the spectacular view of the glorious sunset. It is an ideal veranda for those who want to enjoy the beauty of both sunrises and sunsets.
The sunset veranda is also excellent for people who want to capture the breathtaking view of these occurrences through their lenses.
5. Navigator's Veranda
This type is more enclosed than the others. It provides additional privacy for passengers who want added security. If your cruising companion booked one of these cabins, don't worry, as you can still have a view of what's outside and have a breath of sea air.
Your cabin will have a big open-air porthole that is located above the railing. The navigator's veranda is also ideal if the weather is erratic, and you're not sure whether or not there will be strong gusts of wind.
6. Infinite Veranda on Edge
This veranda provides an "infinite" visual view of the spectacular panorama outside. It is done with the help of advanced technology using visual mirages of seamless "infinity." The inside of the cabin merges with the outside, creating a seamless space that expands to the ocean.
Is It Worth Getting a Veranda on a Cruise Ship?
If you want to know whether veranda rooms are worth it on cruises, you must first identify your goals and preferences. Would you like to experience being among a crowd of strangers outside on the main deck while you take pictures? Or would you rather stay in your room and take photos from there?
To help you decide whether or not to get a veranda on your cruise, here are the advantages of having a veranda cabin.
Advantages of Having a Veranda Cabin on Your Cruise
1. More Privacy
When you have a veranda, you have more privacy. Having privacy is essential when you're cruising with a romantic partner. You would certainly need your precious moments when you can cuddle, talk, and spend quality time together in the privacy of your veranda.
2. Easy Accessibility to Open Air in Your Cabin
Some passengers leave their doors open to the veranda even at nighttime, so they can smell the sea air and enjoy nature's healing scent.
3. Wonderful Morning and Evening Sights
Most people would treasure being able to open their eyes to the sight of the magnificent sunrise while they stay warm and cozy in their beds. What's more rejuvenating than stretching in the morning with the early rays of the sun on your face? Moreover, you can do it as soon as you wake up, without taking a shower and dressing up.
While you lay in bed in the evenings, you can watch the incredible sunset as well, with the lights slowly fading on the horizon. You can do this with a sunset veranda located strategically to provide you both views during your cruise.
The veranda is always open for you, so you can sit down, relax, read, watch the clouds and sea go by, or breathe in the nifty ocean air any time you want to–even in your pajamas.
4. Closer to the Wonders of the Sea
Infinite verandas use advanced technology that allows your cabin to be part of the veranda with a click of a button. You can then bathe your senses with the remarkable sea creatures passing by, the beautiful waves, and the healthy ocean air.
5. Photos Ops Any Time
Any time you want to snap an image that you find interesting, you can simply walk a few steps outside your room and capture the image. You would surely be able to shoot those photos from your veranda, as cruise ships tend to move in circles to provide all passengers a way to view the scenic spots on both sides of the ship.
Naturally, if you want to capture photographs of the entire panoramic view and get some breath of fresh air, you should stay at the main deck. The main deck is usually found in the topmost area of the ship.
So, should you pay extra to get a cabin with a veranda on a cruise ship? Yes, definitely! In summary, you can admire the incredible scenic view on the veranda of your luxurious and comfortable cabin. With a veranda, there's no need to go out just to witness the wonders of the sea.
At nighttime, you can open the doors to allow the fresh and briny air inside your cabin. According to research, sea or ocean air can cure certain respiratory illnesses and some skin conditions. You can also watch the magnificent sunrise and sunset from the comforts of your veranda.
How to Choose a Cabin Veranda on Cruise Ship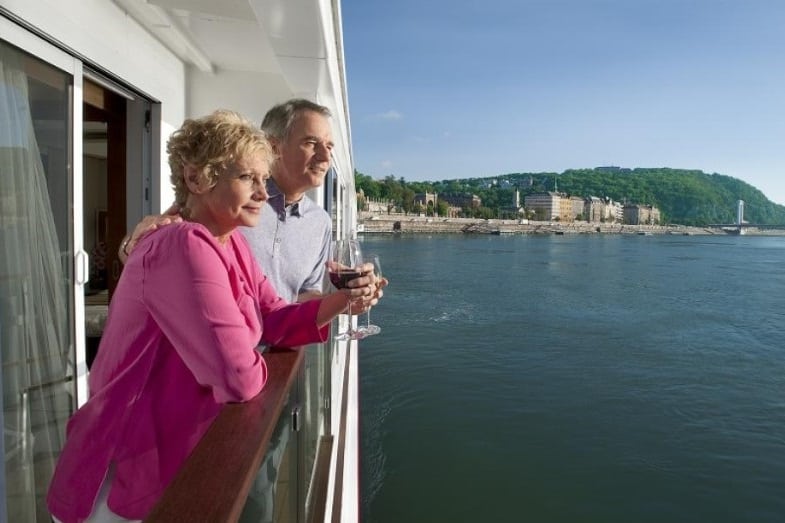 Choosing a cabin veranda entails several vital factors that you must consider. These factors include the following:
1. Number of People
How many people are joining the cruise? Are you alone or with your family or friends? If you're with a group, a cabin veranda is the best for you as there would be precious moments that you would only want to share with your family or friends.
If money is not a problem, you can book a cabin veranda even when you're alone. This way, you can enjoy as much privacy as you want.
Nevertheless, being out on the deck with the other passengers is better when you're alone, as you can mingle and gain new acquaintances while enjoying the view on the public deck.
If money is not a problem, you can book a cabin veranda even when you're alone. This way, you can enjoy as much privacy as you want. Nevertheless, being out on the deck with the other passengers is also a great way to mingle and gain new acquaintances while enjoying the view on the public deck.
Remember to book a room that would comfortably accommodate all of you, especially on long-distance cruises. Nothing can spoil your trip than a night spent curled up in an uncomfortable position.
2. Cost
Your next consideration would be your budget. How much money do you want to pay for your cabin? A cabin with a veranda is more expensive than one without it. The cheapest would be a single room with windows facing a porthole or one that doesn't open.
Cabins with French balconies are costly, too, while luxury rooms with balconies featuring verandas are the most expensive. So, choose your cabin according to your needs and your budget.
3. Primary Purpose
What's the primary purpose of your cruise? Are you on a quest to be an A-1 photographer? If you are, then your best option would be shooting the pictures from a 360-degree angle on the public deck. You can pick a cabin without a balcony and choose to be exposed to the panoramic view on the public deck outside your cabin.
If your primary purpose is to spend quality time with your family or friends, then having a veranda to lounge in and relax privately is a wonderful idea.
In case you merely want to enjoy the other amenities of the cruise ship, such as relishing the different cuisines, taking dips in the pool, and having fun with the entertainment centers provided by the cruise, then you don't need a veranda.
You would be out most of the time, and you may not be able to utilize it. It would be practical to get a cabin without a veranda to cut on cost. You could use the money on other vital expenses during your cruise.
4. Comfort and Convenience
Select a room that is convenient for your needs. An example is choosing a cabin near the elevators if you're with a person with a disability. You may also want to book a cabin near the dining area or laundry room to facilitate the accessibility of these services.
If your group wants to spend more time on the pool deck or sun deck, you could opt for a cabin near these facilities.
For people who have motion sickness, it's recommended to get a centrally located room and at the lower decks of the ship to reduce the risk of experiencing nausea. These areas don't roll and sway as much.
What Is the Difference Between a Veranda and a Balcony?
A true balcony has a veranda, while a French balcony is a false balcony. That's why there are descriptions, such as "a balcony featuring a veranda," because not all balconies have verandas.
A typical veranda of a standard balcony is a small area outside your room where you can step out for some air and sunshine. It usually has a table and some chairs. Generally, the small area would be around 45 square feet and is exposed to open air. Some may have a canopy, and some may not have one.
When booking, you have to ascertain what features are included with the cabin. Does the balcony include a veranda? How big is the space for the veranda? Are the chairs and table provided? Make sure you get your money's worth by knowing the difference between the two.
Conclusion – What Is a Veranda on a Cruise Ship?
So to revisit our initial question: "What is a veranda on a cruise ship?" We have discussed that a veranda on a cruise ship is a small extension of your cabin with outdoor space or open-air access to the ocean. You can sit on chairs, relax, and enjoy the fascinating views and briny air on your veranda.
If you can afford it, choose a veranda cabin for the privacy, comfort, and convenience it provides. However, getting a cabin without a veranda on a cruise is not bad at all. So, if your budget is tight, you can still have a good time with an ordinary cabin during your trip.
All you need to do is be innovative and adventurous, and you will surely enjoy your cruise.
Related reading: