The Towee Boats Company is a popular manufacturer of high-quality skiffs – a small boat with a shallow and flat bottom. In this article, I'll describe the Towee boat models, including their key specs and features.
Dubbed in the market as the Swiss Army knife for small boats, there are two main Towee Boat models – the Calusa, a crossover skiff, and the Scout, a lower version of the Calusa. More than selling boats, Towee also has a trailer and offers fiberglass repair, among other services.
Read on to learn more about Towee boats, including their models and key specs.
Towee Boats – Calusa and Scout Model Specs
If you think of buying a new Towee boat, there are two models to choose from – the Calusa and Scout.
Before we start with our review, refer to the short table below for the specs of the Calusa and Scout boats. As you can see, they are almost the same. You can also expect the same quality and performance regardless of the model you choose:
| | | |
| --- | --- | --- |
| | Towee 2021 Calusa | Towee 2021 Scout |
| Length Overall (LOA) | 16 feet | 16 feet |
| Beam | 51 inches | 51 inches |
| Draft | 4 to 4.5 inches | 4 inches |
| Motor | 20 HP | 20 HP |
| Hull Weight | 290 pounds | 240 pounds |
| Customization | Yes | No |
| Electrical | Yes | No |
| Colors | Sea Foam, Dawn Patrol Gray, Backcountry Black, Pine Island White, Gravel Bar Sage, Custom | Marsh, Seafoam, Dawn Patrol Gray, Gravel Bar Sage, Back Country Black |
Towee Calusa Specs and Features
The boat that gave birth to a crossover skiff – this is how the Calusa positions itself. From its shallow float and exceptional stability despite a heavy load, this is one of the most reliable skiffs in the market today. Not to mention, it is pretty affordable as well.
Length Overall
The length overall or LOA refers to the maximum length of the hull. This is a parallel measurement of the longest point of the bottom of the boat that touches the waterline. It is the length of the bow's tip going to the stern.
Towee Calusa's length overall is 16 feet. The most common length for a skiff is 15 feet. Even if this model is a foot longer, such additional length is almost unnoticeable.
Beam
The beam is the width of the boat in its widest part. This is important as it determines a boat's stability. The wider the beam is, the more stable it will be. In the case of Towee Calusa, the beam is 51 inches.
Draft
The draft is the distance between the boat's deepest point and the waterline. This is an important measurement as it determines the minimum depth of the water for the boat to float. If the depth is less than the boat's draft, it will be touching the surface and will not float. The draft of Towee Calusa is 4 to 4.5 inches, depending on the specific version.
Motor
A 20HP motor powers this skiff. As it is a generally light boat, skiffs do not need high-powered engines to deliver a commendable performance.
Hull Weight
A boat's hull is its watertight body. It will allow the boat to either ride on the top of the water or displace it. In this model, the hull weight is 290 pounds.
Customization
While you can get the standard version of this small boat, there is also an option for customization. The latter is perfect for those who want a skiff that is custom-built to their specifications. It can cost more, but it's worth every dollar if you want to personalize your skiff to achieve your desired performance.
Electrical
One of the best things about the Calusa is that it comes pre-built with many of the things you will need, including the electricals. It has full wiring with durable breaker boxes. You don't have to suffer from inferior wires with poor insulation. This boat comes with thick marine-grade wires with double insulation. They will resist damage, even in saltwater.
Colors
Find a boat that suits your personality and preferences. The Towee Calusa is available in the following colors – Sea Foam, Dawn Patrol Gray, Backcountry Black, Pine Island White, and Gravel Bar Sage. The best thing is that you can customize the color as you wish.
Towee Scout Specs and Features
The Scout is a slightly smaller version of the Calusa. It has the same notable features and innovations as the latter but in a lighter body. Moreover, it is a compact and lightweight skiff with only the essentials without decks, hatches, and electrical components. Finally, it has a clean and open space, with just enough for you to move on.
Length Overall
While it is the scaled-down version of the Calusa, the Towee Scout has the same length overall. It is also 16 feet long.
Beam
Similar to the Towee Calusa, the beam of Towee Scout is 51 inches. It is a comfortable size for a beam, ensuring stability while also navigating even narrow spaces. It might be small but take note that it is a skiff and not a traditional boat.
Draft
While the draft of the Towee Calusa can be four or 4.5 inches, the draft of the Scout is only four inches. It might seem too short, but note that a skiff is a small boat, so such a draft is sufficient for most environments. When it comes to drafts in skiffs, lesser is better. A skiff is built for navigating narrow channels and shallow shafts, so a high draft is unnecessary.
Motor
Similar to the Calusa, this model has a 20HP motor. For most calm water conditions, such power is more than enough.
Hull Weight
As it is a smaller version of the Calusa, it has a lower hull weight. The hull of this model weighs only 240 pounds.
Customization
Unfortunately, no customization is available for Scout. It is built with the specifications Towee believes to be optimal for its users. Even without modifications, you can be confident of its superior design and remarkable performance.
Electricity
Simplicity is one of the biggest selling points of the Towee Scout. To keep it fuss-free, the skiff does not come with any electrical. Aside from bringing the cost down, this also means that you can add your choice of wires depending on a specific application.
Colors
The following are the available colors for the Towee Scout – Marsh, Seafoam, Dawn Patrol Gray, Gravel Bar Sage, and Back Country Black. Unfortunately, there is no option for customizing the hull color.
Towee Boats History
Towee is the brainchild of an expert guide and a boat builder. Its founder, Todd Gregory, has two decades of experience in the automotive market and has been heavily fishing from South Florida to Tennessee. For ten years, he has been trailering skiffs, and it was then when he realized that many skiffs did not fulfill his needs.
Gregory was then in search of a small skiff with extreme maneuverability. He wanted one that is narrow but stable. He did not find any skiff that can handle chop that's easy to row at that time.
To fill the gap, Gregory worked with Chick Davis, a master boat builder. The first boat that he built for the company was the Towee Rivermaster. This was the inspiration for the Calusa that we know today. After releasing the first skiff in 2010, customers began demanding Towee to produce more custom small boats, which was the start of their market supremacy.
Today, Towee remains one of the best skiff brands in the market. The company takes pride in creating skiffs individually under the helm of expert boat builders. From expert anglers to professional guides, the most discerning users admire Towee's skiffs.
Towee Boats Pros and Cons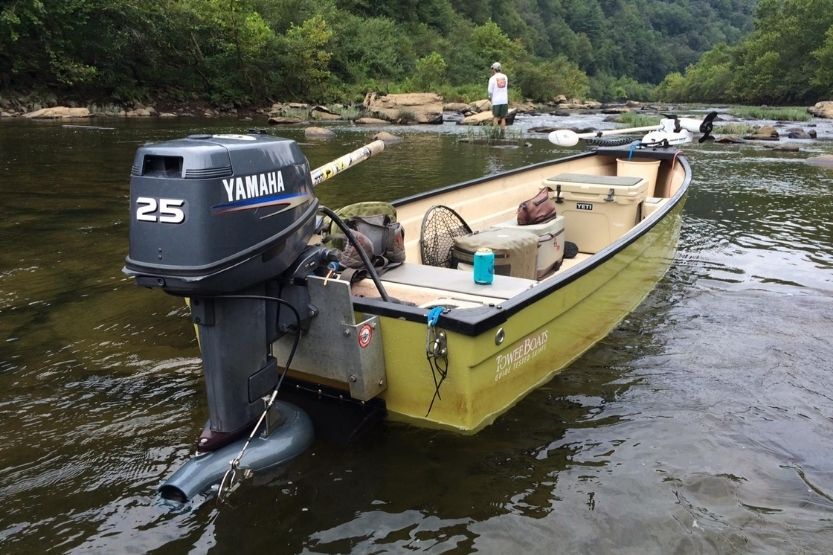 Is Towee the right small boat brand for you? To help you decide, we'll explore some of its pros and cons below:
Pros of Towee Boats
Lightweight: If you want a boat that you can easily bring from your home to the water, this is a great choice. With its lightweight body, it is easy to move. You don't need a heavy-duty tow vehicle.
Compact: Aside from being lightweight, a skiff is also good for those who need a compact boat. This will allow you to navigate even tight spaces with ease. It is easy to control, even for beginners.
Durability: Towee boats will withstand the test of time. The hand-built hull uses exclusive fiberglass with composite lamination. It will endure even harsh environments and remain functional even after years of use.
Lifetime Warranty: This is one thing that can provide you with peace of mind. However, take note that the warranty is valid only for the original owner of the boat. The manufacturer will not offer such an extensive warranty if it isn't confident of the quality of its boats.
Exceptional Rod Storage: Towee boats have deep rod trays, which are better than conventional under-gunnel storage. With a length of ten feet, the tray accommodates multiple rods, assuring that they stay in their position even when navigating choppy waters.
Low Maintenance: With the simple design of Towee boats, maintenance is a breeze. Compared to a regular boat, there are fewer parts you need to take care of. Beyond cleaning the boat and outdoor maintenance, it won't require too much on your end.
Cons of Towee Boats
Space Limitations: While being compact is a good thing for ease of control, it can also be a drawback. It is often just for one to two persons. Also, you won't fit a lot of accessories because of its small footprint.
Open Design: Having an open body means that the user is exposed to the sun and the water. This may not be the most comfortable boat when it is hot or when the water gets rough.
Steering Limitations: Towee skiffs are simple to use, even for beginners. However, some might not like the possible steering limitations. It does not have a steering station or forward helm. Instead, it relies on a tiller for steering the boat.
Other Towee Products and Services
Towee takes pride in its skiffs, but it has more to offer, including those we'll briefly talk about below:
Towee Pro Trailer
The company believes that the right trailer is as crucial as the right skiff. The Pro Trailer has a design specific to towing skiffs. It has a heavy-duty C-channel construction, which the manufacturer claims to be the toughest of its kind. The galvanized frame, meanwhile, will withstand even the harshest conditions.
It is a combination of both form and function. More than being durable, it has a practical and convenient design. We love the maintenance-free hub, which comes with 100,000 miles or six years warranty. It also has a bright LED for illumination when trailering.
Services Offered
Aside from its high-quality products, the company also offers a wide array of services to meet the demands of skiff owners. They are offering the following:
Drift boat bottom repair,
Trailer refurbishing, and
Custom upgrades.
Conclusion – Towee Boats Review
Towee Boats manufactures small boats or skiffs. Aside from selling boats, they also offer trailers, fiberglass repair, among other services.
If you are thinking of buying their product, they are currently offering two products on their website: Towee Calusa and Towee Scout.
Towee Calusa is a small boat measuring 16 feet, a beam of 51 inches, a draft of four to 4.5 inches, a motor of 20 HP, and a hull weight of 290 pounds. The successor of the original Rivermaster, this crossover skiff handles even heavy loads without compromising its stability.
On the other hand, Towee Scout shares almost the same specs as the Calusa, but it has a smaller footprint. With that, its hull weight is reduced to 240 pounds. This scaled-down crossover skiff has no frills, only the basics that you need. Unlike the Calusa, this model cannot be custom-made.
Towee small boats are known for being compact, lightweight, maintenance-free, and easy to control. They are perfect for beginners who do not have the luxury to spend on large and complicated boats.
For quick reference, here are the Towee boat specs:
| | | |
| --- | --- | --- |
| | Towee 2021 Calusa | Towee 2021 Scout |
| Length Overall (LOA) | 16 feet | 16 feet |
| Beam | 51 inches | 51 inches |
| Draft | 4 to 4.5 inches | 4 inches |
| Motor | 20 HP | 20 HP |
| Hull Weight | 290 pounds | 240 pounds |
| Customization | Yes | No |
| Electrical | Yes | No |
| Colors | Sea Foam, Dawn Patrol Gray, Backcountry Black, Pine Island White, Gravel Bar Sage, Custom | Marsh, Seafoam, Dawn Patrol Gray, Gravel Bar Sage, Back Country Black |
Related reading:
Types of Small Boats – 7 Most Common