Back in the 90s, when boating was booming in popularity, a brand was synonymous with quality – the Seaswirl boats. Who are they, and why don't you hear about them much these days? What are Seaswirl boats?
Seaswirl, a sub-brand under Striper boats, was a boat builder in the marine industry that offered various inshore and offshore fishing boats ranging from 16 to 30 feet. Seaswirl was once a top brand in the boating world but succumbed to the economic depression in the 2000s.
Read on to know more about Seaswirl Boats and why avid boaters still look for them until now.
About Seaswirl Boats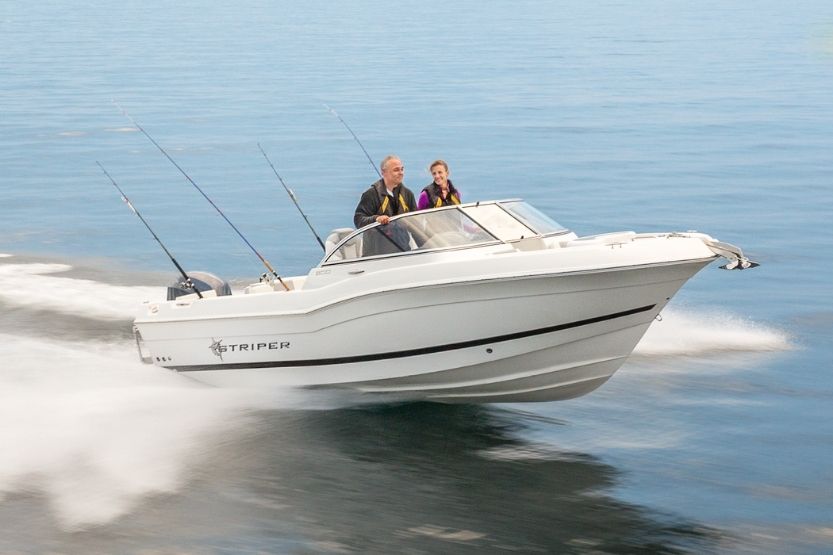 Seaswirl was once one of the biggest names in the marine industry. They reached their peak in the late 90s and early 2000s as one of the prime brands in water vessels. The company used to manufacture boats that range in size from 16 feet to 30 feet. Until today, avid boaters are still looking for original Seaswirl boats from the 90s because they are just that good.
Seaswirl Boats was once a subsidiary brand under the Outboard Marine Corporation, which was at one time the world's largest producer of outboard motors.
However, due to pressure from the US Environmental Protection Agency requiring them to build cleaner engines, OMC could not recoup the money they poured onto a futile research and development procedure. In 2000, the company finally filed for bankruptcy.
All subsidiary companies of OMC were sold off. Among the first to go was Seaswirl Boats. Genmar Industries was able to buy Seaswirl Boats and infused the company with the capital it so badly needed. Thanks to the new owners giving the company a second chance, Seaswirl was able to rehire all their 230 employees whom they had to furlough when OMC filed for bankruptcy.
Unfortunately, even Genmar Industries was not able to survive the economic recession of the 2000s. The company filed for bankruptcy in 2009 mainly due to poor boat sales in the previous years. Today, Striper Boats Incorporated is the company that currently manufactures and sells Seaswirl brand boats.
How Much Do Seaswirl Boats Cost?
Because they were so popular back in their heyday, you can still find plenty of secondhand, original Seaswirl boats for sale today. Most of them are in good condition. You can find boats that cost just below $2000. If you have a sizeable budget, you can get one of the more lavish models for around $140k.
The high-performance models come equipped with engines that can produce upwards of 500hp. However, you can also find more practical fishing boats that can produce around 75hp.
What Kind of Boats Are Seaswirl Boats
Seaswirl was known to make familiar boat hull types and designs. Why fix it when it is not broke, right? Their boats included ones that have deep vee, modified vee, and other hull designs that can cut through the water effortlessly.
Seaswirl built boats that are ideal for any water activities, including day cruising, watersports (skiing and wakeboarding), overnight cruising, and fishing. Their boats also come in various engine configurations, like single or multiple outboard motors and inboard propulsion systems.
Why Are Seaswirl Boats Popular?
Some of the most popular Seaswirl models include the following:
Saltwater fishing boats,
Walkarounds,
Bowriders,
Cuddy Cabins, and
Center Console vessels.
These boats have medium-depth drafts and average-sized beams, making them the best choice for most water activities, especially if you will only be with a couple of people.
Because of their classic status and timeless designs, you can find many boat aficionados who buy secondhand boats and then fit them with modern and more powerful engines. They do this as a means of updating them for modern times.
Popular Seaswirl Boat Models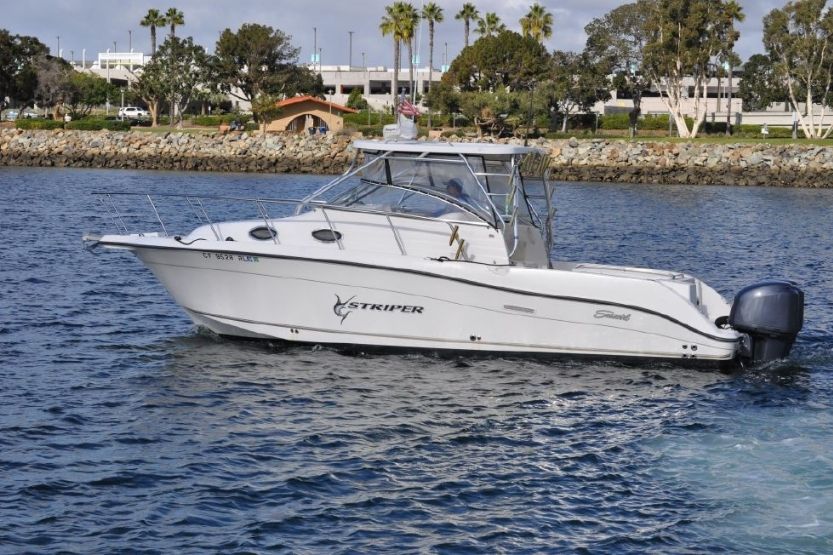 Although there are many Seaswirl models that you can consider the most popular, a few tend to stand out from the rest. These include the following:
1. Seaswirl Striper 2301 CC
The reason why this Seaswirl Striper model was so popular that it provided the most bang for your buck. The base model came with a 200hp motor, which, when coupled with the small 24-foot frame, makes the boat act like a rocket on the water.
This boat has more than enough power for any watersports you are thinking of doing. It also offers a comfortable ride for those who want to cruise over the water.
However, although this boat has many leisure uses, it is primarily a fishing boat. It is the kind of boat that you would want to go offshore with then drop anchor over a school of fish.
2. Seaswirl Striper 2901 Walkaround O/B
Unlike the previous boat model, this one is both made for day cruising and saltwater fishing. Whatever you decide to do, you can be sure that you will be doing so in comfort. This boat is 29 feet from bow to stern, with a beam of 10 ½ feet. As you can see, it has enough room for you and your family to enjoy an entire day in the water. It has a roomy cabin and plenty of seating for close to 8 people.
However, even though it is perfect for day cruising, it does not mean you cannot use it for watersports. This vessel even comes with twin outboard motors that can produce 250hp each. It allows this rather large boat to fly over the water at speeds up to 52 mph.
3. Seaswirl 1851 WA
At first glance, you would not think that the 1851 WA is a capable weekend boat. At just 18 ½ feet from bow to stern, you may think it is just for quick day cruises. Step inside, and you would be surprised at how much room this tiny vessel has.
This boat has a fully-plumbed head, an ample-sized freshwater tank, a cook station, and accommodations for two. If you want to go on a weekend fishing trip alone or with your best buddy, this boat can provide you with everything you need.
Another thing that was surprising about this little boat is that it packs a lot of power. It comes standard with a 175hp outboard motor, which may not seem like much. However, if you consider that it only weighs around 1,200kg, it has enough power to propel the craft up to 40mph on calm seas. Now, if you opted for the 225hp inboard motor, then you could go a bit faster.
What to Look for When Choosing a Seaswirl Boat?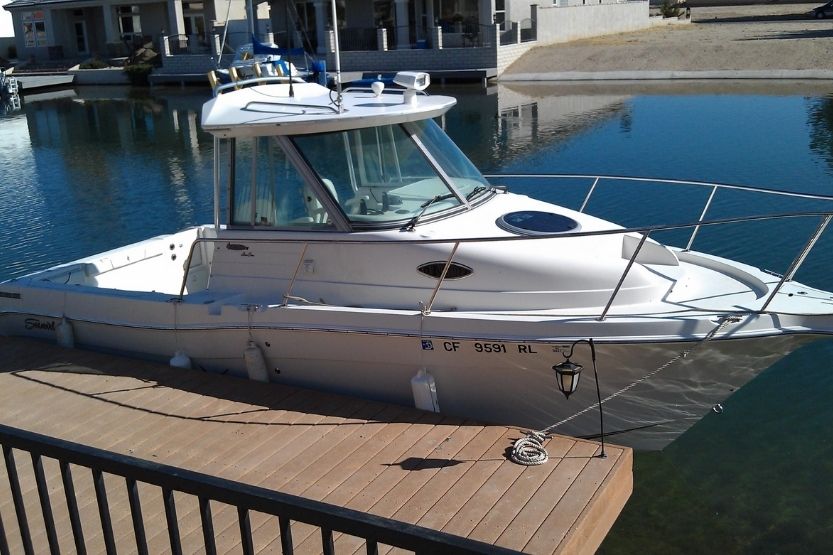 Although Seaswirl boats are still in production, albeit from a different manufacturer, most boat enthusiasts still prefer those that came out during the original company's heyday, which was in the 90s. If you want to get your hands on one of them, you need to know what factors to look for. Keep in mind that you will be buying a 30-year-old boat. So you better know what you are doing.
It is best to have a professional shipbuilder or restorer accompany you when viewing the boat you intend to buy. However, not everyone is friends with a shipwright. Still, you can do a rudimentary inspection to spot any major damage that will make the said boat into a money pit.
If you are thinking about buying a Seaswirl boat, consider the following parts of it:
1. Hull
The hull is the part of the boat that is constantly under stress. In addition, it is one of the parts that might run aground. It is also the component that usually collides with the dock or even other boats. To say that it is the most important part of the boat is an understatement.
When inspecting the Seaswirl boat's hull, keep an eye out for cracks, dents, and other irregularities on the surface. The most important things to look for are signs of repairs. The boat may have been in a major collision, and the owner made shoddy repairs to cover up the damage in the hopes that you will not notice it.
2. Deck
The deck is possibly the easiest part to inspect, but it is also the biggest area. With that, you need to take your time inspecting it. For starters, look for any signs of rot. It might be a sign that this Seaswirl boat has even more damage hidden beneath the deck.
3. Engine
It is often cheaper to buy an entirely new boat than have a small boat's engine replaced. Of course, the best way to check if an engine is in good condition is to run it. If you notice any strange sounds coming from the engine, you know that there is already a problem. If you see that the engine is smoking, it may indicate that you need to turn away.
However, there are times when a boat engine will seem to run fine, but there are still some underlying issues. With that, it would be best to have a boat mechanic assist you.
4. Batteries
Of course, if you plan to get a 90s era or early 2000s model Seaswirl boat, you can bet that it no longer has its original battery. Despite that, the owner should have the batteries replaced at least a year before as they usually have a working lifespan of around six years. Boat batteries can cost anywhere between $100 to $150, and some boats need more than one.
Check the manufacturing date of the battery on any used Seaswirl boat. They must not be more than two years old. Preferably, they should be brand new. If the labels are already so faded that you can no longer read them, they're already too old.
5. Steering Control
The steering control system consists of moving parts that work together to help you control the boat. It starts with the steering wheel. If you find that the wheel has some issues, then it is likely that there are other issues in the steering system.
6. Bilge
The bilge makes sure that the hull does not fill up with water, thereby causing the boat to sink. You can test the bilge pump regardless if the boat is in or out of the water, so inspecting it should not be a problem.
You can test the pump on Seaswirl boats by pouring a bucket or so of water into the bilge then letting the pump run. Even if the pump seems to function properly, you should still listen if any strange sounds come from the motor.
7. Lights
It does not matter if you are not even thinking of taking your boat out at night; your Seaswirl Boat still needs properly working lights. Turn on every single light on the boat and check if they all light up. If there are bulbs burned out, have the owner replace them and then test them again. If the problem turned out to be with the electrical wiring, it could turn into more costly repairs.
8. Plumbing
Does the boat you are thinking of getting come with a bathroom and a galley? Then it will need proper plumbing. Check the pipes if they are still in good condition. Also, check the water pump if it still works properly.
9. Maintenance and Storage History
Once you finish giving the boat a quick initial inspection, ask the owner for the maintenance and storage history of the boat. Both the boat and its trailer should have regular maintenance work done. If the previous owner neglected to do it the last time, then have it done right after purchasing the boat.
Also, determine the owner stored the boat and if it was done properly. Ideally, the owner should have placed the boat inside a covered garage to keep it safe from the elements. However, even if the owner kept the boat outside, putting a tarp or a boat cover over it should be fine.
10. Price
Suppose you find that a Seaswirl boat that is in good condition and is worth buying; don't pull the trigger just yet. You need to make sure that you are getting a good deal first. Check online what other similar boats are selling for these days.
If a Seaswirl boat you just checked out is listed for significantly more than what buyers are willing to pay, shop around. You likely will be able to find a better deal elsewhere, or if you negotiate.
Conclusion – Seaswirl Boats
Although Seaswirl is now just a subsidiary of Striper Boats Inc., it still retained its reputation as one of the best suppliers of inshore and offshore fishing boats. The company has certainly managed to come back after it was sold off to several owners during the recession in the early 2000s.
Today, avid boaters are still searching for original Seaswirl boats from the company's peak years. It is a testament to just how high-quality these boats are.
Related reading:
Cigarette Boat – What Is It and Why Is It Called That
Towee Boats [Models, Specs, and Review]