Pennsylvania has several miles of beautiful streams, rivers, and ponds, as well as 76 natural lakes for kayaking, boating, and canoeing. However, before you launch your boat, do you need a PA launch permit?
To launch a boat in Pennsylvania, you need a PA launch permit or boat launch permit from the Pennsylvania Fish and Boat Commission (PFBC). This permit is required for powered or unpowered boats, including kayaks and canoes. You can also get a mooring or launching permit from the Pennsylvania State Parks.
When on the water, you must display the launch permit on your boat, or you could be cited for the violation. All non-powered boats launched in Pennsylvania state parks or forests must display one of the following:
Boat registration
Launch permit from the Pennsylvania Fish and Boat Commission
Launch permit or mooring permit from Pennsylvania State Parks — available at most park offices. [1]
Read on to learn more about PA launch permits, how to get one, and what type of boats need a Pennsylvania launch permit.
What Is a PA Launch Permit?
A PA launch permit is a permit allowing you to use Pennsylvania's waterways. Powered and unpowered boats, such as kayaks, rowboats, canoes, stand-up paddleboards, must get this launch permit. [2]
Once you have obtained the PA boat launch permit, you can launch your boat at the PFBC lakes and other areas. If you have a mooring or launch permit, you can access waterways at Pennsylvania State Parks. [3]
How Much Does It Cost to Get a PA Launch Permit?
You can purchase a PFBC launch permit on the commission's website. Here are the costs for registering your boat and getting a permit:
Unpowered boats – $22
Boats less than 16 feet – $26
16 feet to less than 20 feet boats – $39
Boats over 20 feet – $52 [4]
How to Get a PA Launch Permit
1. Register Your Boat
Register your boat whether it is powered or unpowered. For unpowered boats, you can launch your boats at Pennsylvania State Parks or Commission lakes so long as you display any of the following:
Boat registration
Pennsylvania State Parks launch or mooring permit
PFBC launch use permit
You can renew your registration every 2 years. Take note that once you classify your boat as unpowered, you could not equip your boat with electric motors or gasoline, or any other mechanical propulsion on any Pennsylvania waterways.
2. Fill Out the Application Form
You can obtain the application forms from the PFBC website, county treasurer's offices, PFBC regional law enforcement offices, or PFBC's headquarters. Fill out all information needed. Be honest, as false information may invalidate your application.
3. Pay the Necessary Fee
Pay the specific fee for your boat and get your registration card and two validation decals.
You have to display your boat registration certificate on your boat, as this will serve as your registration card. The document contains the boat's registration number too.
4. Remember to Get Your Certificate of Boat Registration
Ascertain that you have the PFBC's certificate with you before leaving. You have to display the original certificate of boat registration in your boat at all times during operation. The PFBC does not honor boat certificates from other counties. Hence, place the document at a noticeable, permanent place in your boat.
5. PFBC Exempts Kayaks and Other Low Volume Boats from Displaying Numbers
PFBC exempts kayaks, sailboards, sculls, and other low-volume boats from displaying the registration numbers. However, owners have to display the validation decal. For inflatable boat owners, they should display their validation decals and numbers on the sides of the boat.
Note that canoes are not included in this exemption. So, canoe owners have to display the validation decal and the registration numbers in their boats.
You will need a PA boating launch permit when you plan to go kayaking or canoeing in PFBC properties and access areas. PFBC usually requires paddlers to get a launch permit before they can operate. Thus, launch permits are required from people using kayaks, canoes, and similar non-powered water vehicles.
Responsibilities as a Boat Operator
You are responsible for the following:
All persons' actions onboard your boat
Knowing the rules and regulations of the area
Ensuring that there is enough safety equipment for everyone on board
Knowing the waters where you plan to boat
Where to get a PA Kayak Launch Permit? Since PFBC classifies the kayak as an unpowered boat, you can get your PA kayak launch or mooring permit from Pennsylvania's Department of Conservation and Natural Resources Bureau of State Parks.
You could also get your PA boating launch permit from the Fish and Boat Commission. You can use either of these permits for your kayak and do not have to get both permits.
General Rules for Using a PFBC Lake or Access Area in Pennsylvania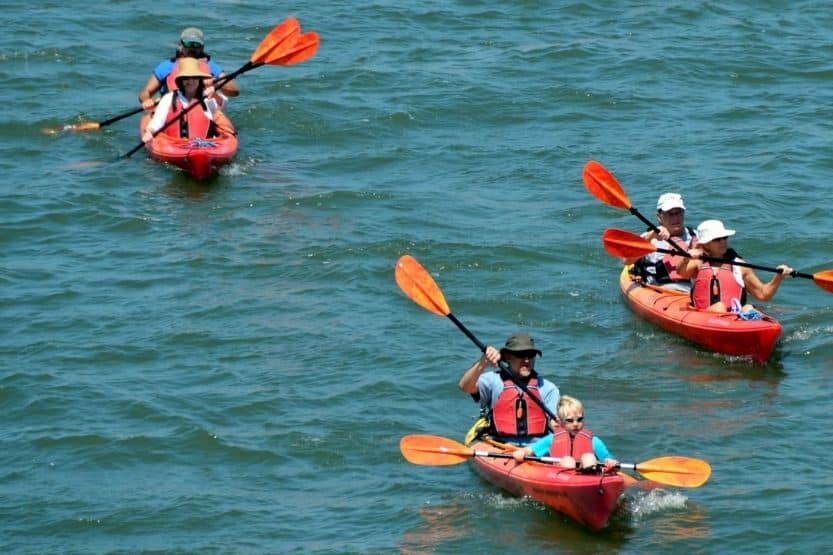 Here are some rules that you have to observe when using any of the PFBC areas:
All boaters and paddlers should wear lifejackets at all times.
No alcohol consumption while boating or paddling.
You must have a USCG-approved VDS device when boating on Lake Erie.
You must have at least three flares and orange signal flags.
All powered or unpowered boats must display a current launch permit or registration.
You can moor overnight in designated areas if you have a current registration (the period covered is from March 1 to November 30.) Note that Launch Use permits do not allow this privilege.
PFBC does not allow poor quality inflatable boats less than 7 feet long that do not have at least 2 unique buoyancy chambers.
PFBC prohibits fires, camping, swimming, picking, digging, or cutting plants, trees, flowers, or shrubs on its property.
Do not deface or remove any poster, sign, or property.
Dispose your garbage properly in containers provided for that purpose, and do not leave your trash behind.
You are not allowed to sleep overnight in your boats, tents, automotive vehicles, campers, or the like.
You should park in designated areas that do not block launch ramps, driveways, or access roads.
If you have dogs, you are responsible for them: They must be licensed and under control. PFBC allows only two dogs on its property. They should be leashed not more than 6 feet long when in parking lots and lawn areas. Also, you must scoop and dispose of their droppings immediately off commission property.
Do not litter: It is illegal in Pennsylvania to throw cigarette butts, fishing lines, garbage kill fish, plastic, oil, hazardous substances, sewage, and human waste into the water. If you have accidentally done it, you have to go back and retrieve your garbage because you can be charged and pay fines. [5]
What Boats Do I Have to Register in PA?
A boat is any watercraft built to transport people through water. This watercraft does not include surfboards and swimming aids.
You have to register boats that are:
Powered by an electric motor, gasoline, or diesel
Sailboats that use electric motor, gasoline, or diesel for auxiliary power
U.S. Coastguard's documented large recreational vessels, such as yachts
Again, you will need a PA launch permit or boat launch permit for boating in Pennsylvania's state parks and forests. You have to register your unpowered boats at the Pennsylvania Fish and Boat Commission and pay the corresponding fees. You could then get your permit from the Commission. Another option is to get a mooring or launching permit from the Pennsylvania State Parks. [5]
Do I Need to Register Unpowered Boats in PA?
Unpowered boats are those boats without motors, such as:
Rowboats,
Canoes,
Kayaks,
Sailboats,
Inflatable boats, and
Rafts.
You are not required to register unpowered boats unless you use your boat at Pennsylvania state parks and forests, or a Fish Commission access area or lake, or as required by the owner.
Another option is to get a PA Boat Launch Permit from the PFBC or a launch and mooring permit from the Department of Conservation and Natural Resources Bureau of State Parks. You could also purchase your permit from HuntFish.com. [6]
You have to get a title for your boat if it's powered by an outboard or inboard motor and currently titled in Pennsylvania. The boat title proves your ownership of the boat. While a title is a secure document to prove you own the boat, the boat's registration is not enough proof of ownership.
Precautions when Canoeing and Kayaking in Pennsylvania
One of the most common accidents when canoeing and kayaking is your boat capsizing. This mishap can be dangerous if you do not have a life vest and you are alone.
Here are some tips to remember when you go paddling in Pennsylvania:
1. Know the Area
You have to know the area you are paddling through to minimize the risk of accidents. Go over the map and ask questions from the information staff. Are there any areas you have to watch out for?
2. Always Wear Your Life Jacket
Many accidents happen when paddlers do not wear their life jackets. Ensure that all of your group are in life jackets. You are responsible for their safety.
3. Dress Appropriately
Kayaking or canoeing is a get-wet sport; so, expect to get wet. Wear tennis or wading shoes with waterproof socks to keep your feet protected. Your outfit should be suitable for the current weather.
4. Be Prepared to Swim
You have to learn how to swim if you plan to go kayaking. This knowledge will help you when the boat capsizes or become swamped and you have to swim.
5. Hold on to Your Boat When It Capsizes
Unless it is impossible to do so, you should hold on to your boat when it capsizes. The boat will help you keep afloat for other people to notice you.
6. Carry Your Boat When Uncertain of the Water
Portage your boat when you are not sure of the water. There may be boulders on shallow waters that could damage your boat.
7. Never Tie a Rope to a Child or Yourself
Secure your ropes properly by tying them up to prevent uncoiling. However, never tie a rope to a child or anyone aboard your boat. The rope can pull you down when you try to swim when the boat capsizes.
8. Never Paddle Alone
It is best to paddle with someone than paddling alone. When you have company, you can have instant help when something goes wrong. Paddling alone is dangerous unless you are an expert.
9. Navigate Your Kayak or Canoe Safely
Avoid colliding with obstacles in the water. If you accidentally did, lean toward the obstacle to lessen the impact. Furthermore, do not take your boat to a low-head dam. This action could be dangerous for new paddlers.
10. Leave a Float Plan
Leave a 'float plan' to a family member, friend, or marina operator. The float plan should show the details of your itinerary and the time frame for your activities.
This plan will help people locate you in case something goes wrong during your paddling adventure.
Conclusion – PA Boat Launch Permit
You need that permit if you plan to explore the vast waterways of Pennsylvania. You can get a boat launch permit from The Pennsylvania Fish and Boat Commission.
Another option is to obtain a mooring or launching permit from the Pennsylvania State Parks.
You have to register and pay the corresponding fees for your unpowered boats at the Pennsylvania Fish and Boat Commission.
Pennsylvania offers a lot of exciting water adventures. But be aware of all the rules and regulations when you go kayaking and canoeing. Abide by these rules, and you would certainly enjoy your boating adventure. Remember to be ready with your permit every time you boat or paddle in Pennsylvania's waterways, and nothing will go wrong.
Related reading:
What Are the Boat Requirements in Arkansas?
Registering a Boat in Alabama – Plus Alabama Boat Laws