One of the most popular catamarans on the market is the Lagoon 450. Many sailing aficionados have fallen head-over-heels in love with it for many reasons. This article will describe the Lagoon 450 catamaran specs and features, so you will know if it is the right boat for you.
The Lagoon 450 catamaran is an ideal boat if you want to experience the life of a sailor. Over time, Lagoon has updated its designs. This move has not only made the Lagoon 450 catamaran sturdy and durable, but it also now features a more elegant design.
Read on to learn more about the Lagoon 450 catamaran, including all of its key specs and features.
About the Lagoon 450 Catamaran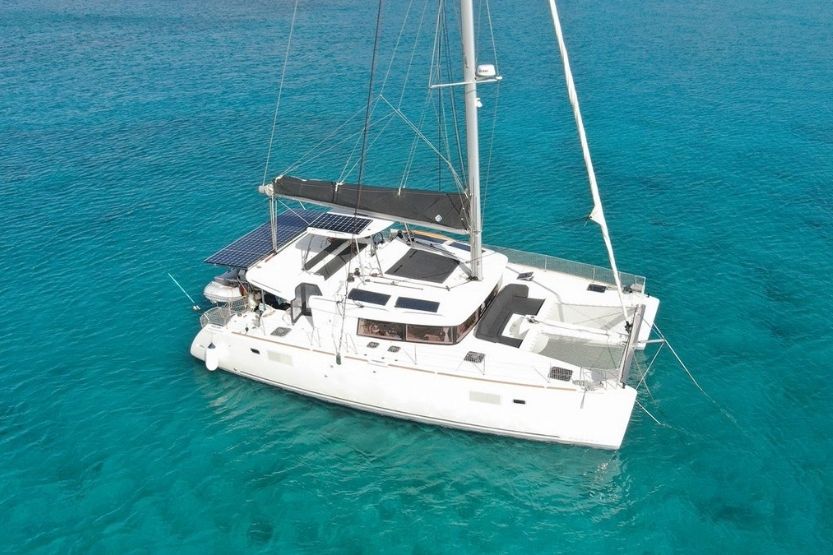 The Lagoon 450 catamaran is sturdy and durable, an ideal and elegant boat for those who want to delve into sailor life. Its designers updated it and added lots of features throughout the years.
Lagoon Catamarans' designers did a great job when they decided to release the Lagoon 450 to replace its 440 models. During the first five years of the Lagoon 450, from the date it was initially launched, it sold over 400 units.
Whatever flaws that the Lagoon 440 catamaran had, were all corrected with the release of the new 450 models. The Lagoon 450 catamaran is noticeably larger than the Lagoon 440. It is safer, more comfortable, and more luxurious.
Compared to the Lagoon 440 catamaran, the Lagoon 450 catamaran has a wider deck, cabin, and saloon. While it can accommodate 10 to 12 passengers, it is ideal to limit it to 8 passengers. That way, you can enjoy all the amenities and experience ultimate comfort.
Lagoon 450 Specs and Features
Let's now take a look at the specs and features of the Lagoon 450 catamaran.
Saloon
The Lagoon 450 Saloon features large, vertical windows which perfectly allow natural light to pass through and brighten the area. Aside from that, these big windows allow enough fresh air to come in.
There is ample space for food preparation. If you love cooking, you will definitely enjoy staying in this catamaran. There's plenty of space to move around. Not to mention that there are plenty of drawers and cabinets to keep all the stuff you need. That way, you can maintain a clean area for food preparation.
The Lagoon 450 catamaran has enough space to eat. This space may also be used to play cards and board games, to name a few. The Salon is an ideal area for bonding with family and friends.
Cabins
Spending your time inside the Lagoon 450 catamaran will truly provide you with an ultimate luxury vacation experience.
Aside from the clean and comfortable cabins, they also feature a modern design. There are enough windows that provide excellent lighting. Space may seem small, but there is plenty of storage to keep all your stuff. That way, you can maintain the cabins' tidy look.
What makes it even better is that there is an en suite bathroom for every cabin.
There are Lagoon 450 catamarans with three cabins, and there are those featuring four cabins.
Size
This catamaran is better than its rivals in terms of performance, facilities, deck areas, and accommodation, among others.
The Lagoon 450 catamaran has a SporTop version. It enables boaters to experience the enjoyment and comfort of a 45 feet catamaran in a more conventional version.
Exterior
This catamaran features an elegant roof outline due to its amazing cabin top design.
The exterior has a cabin top that provides an ample area for sunbathing.
In terms of the sail area, the low mast and boom minimize pitching. It also makes the boom more convenient and efficient to access.
The cabin top aft bulkhead is designed to make it convenient to handle the steering wheel whether the driver is in a sitting or standing position. This area features the following:
All maneuvers
Access from the cockpit and the deck
Integrated large helm station seat
A composite bimini over the steering area may be integrated as an option.
An extra safety system may be optionally integrated
A tilting composite beam to close off the steering station during bad weather condition may be integrated
Construction
With the luxury, functionality, and durability that the Lagoon 450 catamaran offers, it is not surprising that it is genuinely made of high-quality products.
It features laminated marine plywood bulkheads and balsa core bridge deck and deck. The core hull is also balsa, solid laminate under the waterline with a white gel coat. Its hull, deck, and coach roof are laminated using infusion. Polyester and high-quality anti-osmotic resin are also the materials used.
Sails and Rigging
The Lagoon 450 catamaran features two sails. These include a single high roach mainsail and a single genoa sail.
For the mainsail, it is in Dacron with battens. The genoa sail is also in Dacron with an ultraviolet (UV) protective band.
In terms of the standing rigging, the features include the following:
Deck light on the mast
Two forestay chainplates
Lazy jacks that are adjustable
Two shroud chainplates
Genoa forestay featuring manual furler
Two encased cap shrouds
Aluminum boom
Three-stayed aluminum mast featuring the mainsail ball-bearing track system
As for the running rigging, the features include the following:
Two mainsail traveler car control lines that are pre-stretched
A single genoa furling line that is pre-stretched
Three reefing lines
Boom topping lift
Two genoa sheets that are pre-stretched
Single pre-stretched mainsheet
Spectra Genoa halyard
Double purchase Spectra mainsail halyard
Hardware
In terms of hardware, the specs include an anodized aluminum crossbeam with a fixing point for the navigation lights, anchor roller, and genoa furler.
It has genoa tracks featuring a genoa car and stopper. There are also three manual winches with 60.2 STA.
Mooring and Anchoring
For the anchoring, there is access to the windlass and the anchor locker. It has a 1700W or 12V electrical windlass featuring a vertical axis, the gypsy in the anchor locker.
As for mooring, there are 8 mooring cleats. There's also a composite longitudinal crossbeam which features integrated chain run and mooring cleat.
Engines
Starting with the fuel circuit, the Lagoon 450 catamaran features the following:
Gauge at the general control panel on the touch screen
A fuel shut off valve
Fuel filter systems
Two aluminum tanks measuring 2 x 520 liters / 137 gallons
The engine compartment ventilation features electrical extraction in the aft transom. There are mechanical engine throttles located at the helm station. This catamaran also features a raw water filter.
The features also include two fixed blade propellers and two diesel engines featuring YANMAR 4JH45 45 horsepower common rail sail drive.
The below video is a great Lagoon 450 review that includes many of the key features and specs:
With the features we have discussed, you can probably imagine by now how you can genuinely experience the life of a sailor at its best. Over time, Lagoon has updated its designs. This move has not only made the Lagoon 450 catamaran sturdy and durable, but it also now features a more elegant design.
If our discussion has not impressed you yet, here are more of its features:
Plumbing
Let's discuss the features of the Bilge Pump Circuit, the Black Water, the Grey Water, and the Fresh Water Circuit.
For the Bilge Pump Circuit, there is a non-submerged bilge pump per hull that is activated manually. It has a submerged bilge pump per hull that automatically activates. There is a pump per hull with a cockpit pump that is manually operated.
In terms of the Black Water, the tanks are 80 liters per 21 gallons per cabin. So, for the 3 cabins 3 head version, there is a total of 240 liters per 63 gallons. For the 4 cabins 4 head version, there is a total of 320 liters per 85 gallons.
When it comes to the Grey Water, the sink and shower are both drained by timer and push button.
As for the FreshWater Circuit features, the freshwater tank measures 2 x 175 liters per 46 gallons. This is monitored using the gauge at the general control panel on the touch screen. The freshwater circuit has a main water pressure pump in the port passageway. There is a 60 liter per 16 gallons of electric water heater and 230 voltage heat exchanger.
Electrical Features
For the electrical features, let's talk about the Lighting, the Electric Distribution Panel, and the Power Circuit DC – 12V.
Lighting features LED navigation lights. There is 12V lighting in the engine compartment. The chart table light and the reading lights next to bunks also feature a 12V LED. Ceilings also feature recessed 12V LED spotlights.
The general Electric Distribution Panel at the chart table also has 12V. The circuit breaker protects this table. Lighting is provided for the panel, circuit breaker, voltmeter, and ammeter. There are also 12V USB sockets in the electrical panel.
As for the Power Circuit, the features are as follow:
3 AGM service batteries with 12V – 140A
2 AGM start batteries 12V – 50A
2 harnessed alternators 125A
Deck Layout
The transom features storage on the side, both for port and starboard. There is an s/s telescopic swim ladder featuring a fixed handle on the starboard. A hot-and-cold deck shower on the starboard side is also available.
The aft cockpit is large and may be efficiently used as a deck saloon with a hard top bimini. It features a U-shaped bench seat that also serves as a storage locker.
The cockpit features include a gas locker, a lounger, and a removable polyester cockpit table with a maximum seating capacity of 10. You can convert the storage locker into an icemaker. You can also use it as a countertop.
The forward cockpit features a nylon trampoline and a U-shaped seating area. There are storage lockers under the central, portal, and starboard seats.
Bow lockers feature lighting, grey painting, wooden flooring, and locks with access through flush deck hatches.
Interior Layouts
The standing headroom in the bathroom and cabin is 2.04 m / 6'8". In the saloon, it is 2.06 m / 6'9".
For the general features of the interior layouts, they include the following:
Fabric-covered plywood on hull liner in cabins
Fiberglass liners and fabric-covered plywood ceiling panels in bathrooms and cabins
Leather-covered S/S handrail
Bathroom access doors have sills
Cabin access doors
Floors are Asburgo laminated
Interior wood features Alpi Walnut plywood
The marine mattresses have a multi-layer alveolar foam measuring 130 mm / 5 in. These mattresses have been treated for anti-dust mite, anti-bacterial, anti-microbial, and all are non-allergenic. The synthetic fabrics are water repellent with anti-stain treatment, UV resistant, and washable.
The cabins and saloon also feature blackout curtains. For deck hatches, there are mosquito blinds and screens.
Conclusion – Lagoon 450 Review and Specs
The Lagoon 450 catamaran is a perfect boat if you want to experience the ultimate life. The upgraded Lagoon 450 catamaran is sturdy, more durable, and features a more elegant design.
This watercraft seems to be a little small for a sailor or a professional captain based on its specs. Nonetheless, if you consider acquiring a catamaran mainly for recreational purposes, then the Lagoon 450 catamaran is a perfect boat for you.
Spending time in this catamaran is an effective way to bond with family and friends. There is enough space for different types of activities such as cooking, eating, and playing cards or board games, among other things.
The Lagoon 450 catamaran will not only allow you to bond with your loved ones. With the watercraft's elegant design, it will also allow all of you to bond in style.