If you're planning a vacation trip for the whole family, you can't go wrong with a voyage on a Disney Cruise. When it comes to family entertainment, and if it says Disney on it, then you can be assured of a good time for kids and grown-ups alike.
In this article, I'm going to focus on how much a Disney Cruise costs, including the costs for each Disney Cruise. This will allow you to know what to expect before you book.
How much does a Disney Cruise cost? For a 3-day cruise, the estimated cost ranges from US$216 to US$525 for each person per day. The cost of a 4-day cruise may cost between US$212 and US$418 for each person per day. For a 7-day cruise, the cost can be as low as US$189 and as high as US$602 for each person per day.
The cost tends to vary, especially during peak season, and of course, when there are unexpected expenses. Read on to learn more about how much a Disney Cruise costs so you can plan your trip in advance.
How Much Does a Disney Cruise Cost?
Let's get to know more about the four Disney Cruise ships. Let's discuss what you can expect from each cruise, the estimated costs, and if the trip is worth the price.
1. Disney Magic
Disney Magic is the first of the Magic-class cruise ships by Disney. It's the first of their Magic-class cruise ships. The Magic's maiden voyage was in 1998. It has 11 decks and 875 staterooms with interiors designed in an Art Deco style.
This ship can accommodate 2,700 passengers and is manned by a crew of 950. Its route includes the Bahamas, the Caribbean, Northern Europe, and the Mediterranean.
There's no doubt that there are plenty of fun activities on the Disney Magic for every member of the family.
Disney Magic Activities for Young Ones and Families
At the Oceaneer Club, kids get the chance to interact with their favorite characters.
The young ones may step inside Andy's Room and enter the world of Toy Story. They can also join the Marvel Super Hero Academy and go on adventures with the mighty Avengers. Children can play with their favorite Disney Junior friends or visit Tinker Bell in the magical realm of Pixie Hollow.
At the Oceaneer Lab, children can participate in imaginative and educational activities. The It's a Small World Nursery is a fun-filled playroom for little toddlers.
For the bigger kids, Edge is a place where they can kick back and relax. They can also try the Vibe, which is a hip hangout for growing teens.
Families can cool down at the pool area, where they can find the AquaLab splash area and the AquaDunk body water slide. The area has a FunnelVision TV, which is an LED screen in the main pool area that shows movies and television programs all day.
Disney Magic Activities for Grown-Ups
The grown-ups need not feel left out while the kids play during the day. The reason is that they can also have fun when the sun goes down. Disney Magic's After Hours section is the place to be.
There, you will find three onboard bars, namely, Fathoms, Keys Piano Bar, and O'Gills Pub. Aside from the bars, there's an entertainment venue called the Promenade Lounge.
In the Cove area, you can hang out at the Cove Café or chill by the Cove Pool. You can also relax and let yourself be pampered by the beautifying and rejuvenating treatments offered by the Chill Spa or Senses Spa & Salon.
The Disney Magic Dining Experience
A customary for all Disney Cruise ships, the Disney Magic offers rotational dining. It works by assigning guests with a specific table number with the same serving team throughout the trip.
There are three themed restaurants aboard. These are the Lumiere's, the Animator's Palate, and the Palo.
The Lumiere's is inspired by the fairy tale "Beauty and the Beast." Meals can also be enjoyed in Rapunzel's Royal Table, which is based on the animated movie Tangled.
The Animator's Palate offers a unique dining experience. The room starts out in black and white and gradually becomes colorized through the course of the meal.
For an additional fee, those belonging to the older set at 18 years old and above may choose to dine at Palo. It's an upscale restaurant specializing in Italian cuisine.
Other Disney Magic Onboard Entertainment
For onboard entertainment, the Walt Disney Theater stages a trio of Broadway-style shows featuring well-loved Disney characters. The following are the current lineup of shows:
An Enchanted Classic
Twice Charmed: An Original Twist on the Cinderella Story
Tangled: The Musical
The ship also has a movie theatre called the Buena Vista. It screens classic and first-run Disney films.
Moreover, you can watch Disney character performances at the open-air deck parties and party like a pirate under the firework-lit skies during Pirate Night.
2. Disney Wonder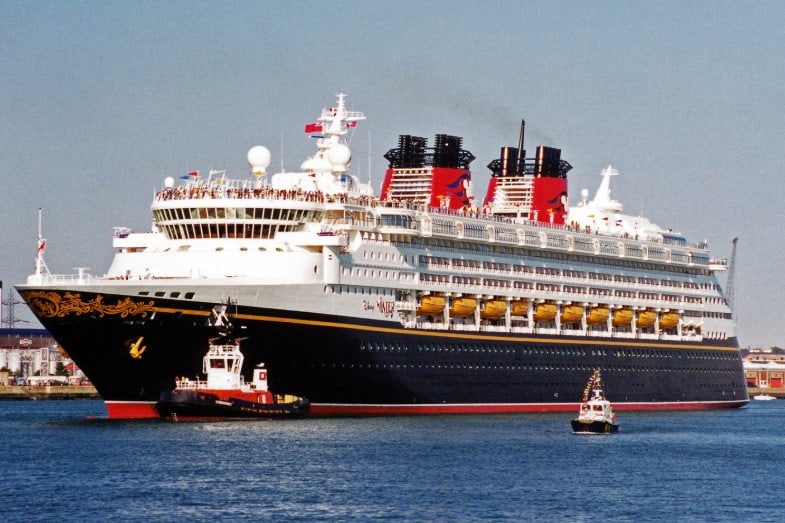 The second Magic-class ship in the Disney Cruise Line is Disney Wonder. It entered into service in 1999. Like its predecessor, the Disney Magic, it has an Art Deco interior with 11 decks and 875 staterooms.
The ship's accommodation capacity is 2,400 passengers. It's staffed by a crew of roughly 950. The Disney Wonder sails to the following routes:
The Bahamas
The Caribbean
Alaska
U.S. West Coast
Disney Wonder Activities for Young Ones and Families
Pool areas and various youth clubs are also aboard the Disney Wonder, like all other Disney cruises. But exclusive to the Wonder's Oceaneer Club is Frozen Adventures. It features Frozen characters, such as Elsa, Anna, and Olaf. Kids can play their favorite video games at the Quarter Masters arcade as well.
Disney Wonder Activities for Grown-Ups
For the adults, Disney Wonder's After Hours offers a number of unique dives. It features a sports pub called Diversions. This pub is described as having a dual personality. It's a family place by day and an adult-oriented social club by night. Other amenities include:
The Cadillac Lounge – A piano bar themed around that classic automobile model.
Azure – A splashy nightclub inspired by the sea.
Crown & Fin Pub – This English-style pub has British-tinged Disney films, such as Mary Poppins, 101 Dalmatians, and Peter Pan.
The Disney Wonder Dining Experience
The Disney Wonder has three main themed restaurants. One of them is the aforementioned Animator's Palette, which serves Pacific/Asian cuisine.
The two other dining rooms are exclusive to this ship. One is Triton's, which is a Little Mermaid-themed French restaurant. The other one is Tiana's Place, based on the animated film "The Princess and the Frog." This restaurant serves New Orleans cuisine.
There are other onboard dining options like the Cabanas, which is a buffet restaurant. There are pool-side quick-service restaurants, such as Daisy's De-lites, Pete's Boiler Bites, and Pinocchio's Pizzeria. The Italian restaurant Palo is also aboard the Wonder.
Other Disney Wonder Onboard Entertainment
Classic and first-run movies are shown at the Buena Vista Theater, whereas the Walt Disney Theater serves as the venue for Disney Wonder's trio of live stage productions.
The shows in the current lineup at the Walt Disney Theater include Disney Dreams: An Enchanted Classic. Joining it are two other productions: the awards-style show called The Golden Mickeys and Frozen: A Musical Spectacular, which is a stage adaptation of the widely popular animated film.
3. Disney Dream
The third ship in the Disney Cruise series and the first of the larger Dream-class cruise ships is Disney Dream. Brought into service in 2011, it is 40% larger than the two previous ships in the fleet. It is capable of carrying around 2,500 people at double occupancy up to 4,000 passengers at maximum capacity.
It has a staff of 1,458 crew members with 16 decks (14 for passengers) and 1,250 staterooms. The Disney Dream sails 2-day, 3-day, and occasionally 5-day cruises to the Bahamas.
Ideal for Star Wars Fanatics
Fans of the Star Wars saga are sure to enjoy the Disney Dream Oceaneer Club attraction called Star Wars: Millennium Falcon. It puts them in the pilot's seat of Han Solo's famed spaceship. Another attraction is Jedi Training: Experience the Force.
Near these attractions is the pool area. You may take an exciting ride down the wet and wild water coaster called the AquaDuck.
Disney Dream Activities for Grown-Ups
The adults-only area, The District, presents bars brimming with a relaxing atmosphere. One of the bars is called the Skyline. It's a chic cocktail bar that gives you a panoramic view of the world's most famous cityscapes.
Another one is Pink, which is a wine and champagne bar with a cozy, romantic ambiance. Pub 687 is a sports bar where game fans can get together and watch live broadcasts from a flatscreen TV.
If it's entertainment you crave, then you can go dancing at Evolution. You may also watch live musical performances at the District Lounge piano bar.
The Disney Dream Dining Experience
The main dining at the Disney Dream includes the ever-present Animator's Palate and two other restaurants. The Royal Palace is a Disney Princess-themed dining room. It serves French and American cuisines fit for a king or queen! The other restaurant is called the Enchanted Garden. It's inspired by the gardens of Versailles.
For casual dining, you can have breakfast, lunch, and dinner at the Cabanas. You may also grab a burger or pizza at Flo's Café. If you're craving ice cream and other frozen delights, the Frozone Treats and Eye Scream are the ones for you.
For adults, you have a choice between the Italian cuisine of Palo and the French dishes of Remy.
Other Disney Dream Onboard Entertainment
Currently showing at the Walt Disney Theater are The Golden Mickeys and Disney's Believe. It also shows Beauty and the Beast, a live retelling of that tale as old as time.
Of course, you can always enjoy a movie at the Buena Vista Theater or have fun at the deck parties.
4. Disney Fantasy
The Disney Fantasy, sister ship of the Disney Dream, is the fourth Disney Cruise Line ship and the second of the Dream-class ships. It was brought into service in 2012.
Similar to its sister, it has a crew of 1,458 and can accommodate 2,500 to 4,000 people in its 16 decks and 1,250 passenger cabins. Disney Fantasy offers 7-night cruises to the Eastern and Western Caribbean.
Disney Fantasy Activities for Young Ones and Families
The Oceaneer Club takes kids back to Andy's Room, Pixie Hollow, and the Marvel Super Hero Academy. Then, it delivers more intergalactic action with Star Wars: Command Post. The Midship Detective Agency is an interactive family experience where you help Mickey Mouse solve a baffling mystery.
The club also features the Bibbidi Bobbidi Boutique. It's a children's salon where their magical makeover fantasies can come true. The salon can transform kids into whatever their hearts desire: a princess, a pirate, or even a Jedi Master.
Disney Fantasy Activities for Grown-Ups
Europa, the Disney Fantasy's adult section, offers an array of nightspots with a European flair. Relive the swinging 70's at the British-mod dance club called The Tube.
Spend a relaxing, romantic evening at the Italian-style bar La Piazza or give a toast to the class and elegance of France at the Ooh La La champagne bar.
The Disney Fantasy Dining Experience
The dining options at the Disney Fantasy are practically the same as those on the Disney Dream. For the main dining, you have the Animator's Palate, Enchanted Garden, and Royal Court. The Royal Court is Fantasy's equivalent to the Royal Palace.
Casual dining consists of Cabana's, Flo's Café, Frozone Treats, and Eye Scream. For adult-exclusive dining, there's Palo and Remy.
Other Disney Fantasy Onboard Entertainment
The lineup of shows at the Fantasy's Walt Disney Theater includes old favorites. These shows include Disney's Believe, Frozen: A Musical Spectacular, and Aladdin: A Musical Spectacular.
Along with Pirate Night, you'll also experience even more Star Wars excitement on deck with Star Wars Day at Sea.
How Much Does a Disney Cruise Cost?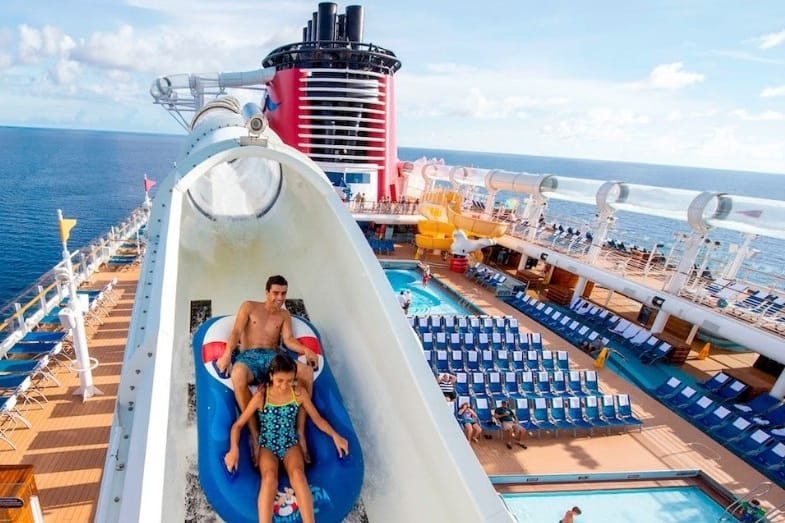 Disney Cruise's amenities are but a few of the many exciting things that you can look forward to on the Disney Cruise Line. As it is, there's already so much packed into one cruise. But if there's more to explore, you just have to wonder exactly how much does a Disney Cruise cost.
Well, it depends on the ship and the itinerary. For a family of four, the following estimates would be the average Disney Cruise cost:
1. Estimated Cost of a 3-Day Cruise
A 3-day cruise is perhaps the best option if you are trying out the Disney Cruise experience for the first time, as it would be the least expensive. For a party of four, a 3-day Caribbean cruise would cost US$2,600 to US$6,300 or about US$216 to US$525 for each person per day.
2. Estimated Cost of a 4-Day Cruise
A 4-day cruise is a trip that you can take if you have a few weekdays to spare. The price of a 4-day Caribbean cruise ranges from US$3,400 to US$6,700 or US$212 to US$418 per person. However, rates tend to go higher during Christmas week.
3. Estimated Cost of a 7-Day Cruise
A 7-day cruise to Europe or the Caribbean would cost you US$5,300 to US$10,000, averaging from US$189 to US$397 per person. A 7-day Alaskan cruise ranges in price from US$6,500 to US$17,000 or US$232 to US$602 for each person.
In this 7-day cruise, the type of stateroom you are booked in can also make a difference in the price. Inside cabins are less expensive at US$6,500 to US$8,000, whereas veranda cabins are more expensive at US$8,900 to US$17,000.
The Coverage
A Disney Cruise fare covers Disney character interactions, onboard shows, youth clubs, main dining rooms, room service, snacks, standard coffee, soda, and iced tea. For everything else, you will have to pay an additional fee during the cruise.
Extra Costs
Gratuities would cost you around US$40 per person on a 3-day cruise, US$54 for a 4-day cruise, and US$94 for a 7-day cruise. There's an added 15% gratuity when you purchase alcohol since it is not part of your fare. Budget accordingly if you plan to spend on liquor.
Meals at Palo and Remy will cost you extra, not to mention certain snacks, which include theater popcorn, specialty desserts, and premium coffee.
If you want to take a shore excursion whenever the ship makes a port stop, you should allot around US$100 for each excursion. Another expense is shopping at various shops and boutiques on the ship. Other expenditures include spa services and Wi-Fi, among others.
Getting a Discount
Now you know how much a Disney Cruise costs. You probably think that the price might be more than a little too steep for you. The good news is that there are a number of ways for you to cut costs. They include:
1. Peak Season Booking
If you're booking a cruise during peak seasons, such as in the summer or other holidays, you should book as early as possible. Disney Cruise rates seldom go down, most especially during peak seasons. So if you book ahead of time, you'll have better chances of getting a good deal.
2. Off-Season Booking
You may also want to book a cruise during the off-season when children still have school. Not many families would be going on trips, so you are sure to save a bundle and get a good price. Off-season booking more likely happens in the months of January, February, and September until early November.
3. Early Booking
An interesting way to get a discount is by booking your next Disney cruise while you're still aboard your current one. It sounds unusual, but you will get 10% off when you do.
You can avail yourself of stateroom credits if you provide your travel agent's info. You also have the option of booking a particular date or booking both the specific date and room you want. You will have to provide a deposit, though.
4. Disney Cruise Lines' Special Offers Page
Aside from the abovementioned discounts, Disney Cruise Lines offers discounts on their Special Offers page. At the moment, there is a 50% discount on select 4-day plus cruises and 20% off certain Bahamian, Western Caribbean, and Pacific Coast cruises. There are also special rates for residents of Florida and Canada, as well as U.S. military members.
In the end, the cost of any Disney Cruise ship matches up to the services and amenities it provides. What matters most is the exceptional level of fun and adventure that your whole family will surely enjoy.
Related reading:
How Much Does It Cost to Live on a Cruise Ship?
Royal Caribbean Dining Package: Costs and Review
Chops Grille and Giovanni's Table Royal Caribbean Menu