What are the boat brands to avoid? Boats don't come cheap; that's why you need to do diligent research when you are in the market for one. You don't want to spend a huge sum of money on something that will only give you problems in the future. In this article, I will discuss the boat brands to avoid so that you won't waste your money.
What are the worst boat brands? Based on boat reviews and the actual experiences of boat owners, several boat brands tend to develop certain issues. They include the following:
Bayliner
Monterey
Luhr
Kingfisher
To be fair, not all boats made by these boat builders are inferior. It just that they have certain boat models that develop issues that boat buyers should be aware of.
When it comes to pontoon boat brands to avoid, I don't have a specific brand to avoid. However, use caution if you are considering a pontoon boat made by Genmar Marine as they have received several negative reviews and are not a good company to rely on for support.
You can't determine a boat's quality just by its stylish design and outer adornments. First and foremost, the boat should be strongly built. So, it is in your own best interest to do extensive research, not just on the specifications but also on the reviews by boat owners and users of the particular boat you are interested in.
Read on to learn more about the different boat brands to avoid and why they should be avoided.
Boat Brands to Avoid
One of the worst experiences that a boat owner can have is to have their request for repairs refused by the maker of the boat. Unfortunately, many boat owners were forced to endure this bad experience. This can be awful, especially when the boat requires very costly repairs.
And then there are boats that were hyped by their manufacturers as durable, powerful, and efficient. Honest but gullible buyers willingly shell out their money only to realize after some time that the boat they bought is littered with defects.
To avoid this horrible situation, you need to be aware of the worst boat manufacturers you need to steer clear of when buying one. There are a lot of good boats out there. But since you are making a huge investment, you should do extensive boat research before settling for one.
This is not to malign certain boat makers. Still, the information contained in this article is based on reviews and actual experiences of boat owners of the particular boats that are included in the list, which are Bayliner, Luhr, Monterey, and Kingfisher. Let us discuss these boat brands one by one.
1. Bayliner
Since 1976, the US Coast Guard has received 14 complaints about Bayliner boats. These complaints resulted in the recall of 3,257 boats made by this boat builder. Here are certain things you need to know about this boat brand.
Bayliner Boats with the Most Problems
There are 1,240 units of this boat model that had fuel-filler pipe problems. These pipes were not grounded. There were also 457 of this boat model that had problems with the ventilation in the engine space. Moreover, 346 of these boats were not able to float level and had problems with stability.
There were 263 units of this model that experienced stability problems.
There were 12 boats of this model made in 1988 that had engine room electrical problems.
873 Bowrider 160 BR and 180 BR
On Mar. 15, 2014, Bayliner recalled 873 boats of this model. 477 of these boats were repaired. The recall ended on Aug. 14, 2014.
Resale Value Is Poor
You need to consider the resale value of a boat because you will be paying a huge sum of money, even for a used one. By some accounts, purchasing a Bayliner is not a wise investment. Since they are widely available, their value depreciates considerably. Their resale value is adversely affected since a great number of this boat brand is available in the market.
In addition, Bayliners built in the 1970s, and the 1980s had a reputation for being low-quality boats. The recalls made during that period are a testimony to this fact. Bigger Bayliner cruisers are not as bad as the smaller models.
Bayliner Bowrider 2004 Model Has Many Issues
Bowrider 180 models made in 2004 have several issues. Apparently, the stereo system is incorrectly wired. Because of this problem, the company recalled 63 units of this model. It was deemed that this problem is a potential fire hazard.
Some Boat Models Have Stability Issues
A boat with stability issues will endanger the lives of its passengers. There is also a problem with its construction. It seems that its fuel pipes were not properly grounded. This is another potential fire hazard.
Insufficient Ventilation
Another issue that was discovered is the insufficient ventilation in the engine compartments. This poses another potential risk – accidental explosions. Some of these boat models have incorrect electrical switches.
Battery Mounting
Moreover, the batteries in some models were mounted very near to the fuel lines. They are exposed to too much heat, which heightens the risk of fire. Other boats are guilty of violating government regulations because they have removable capacity plates.
It was discovered that there were 154 boats of the Bayliner 1980 model that had USCG Capacity Plates that are removable, just by lifting the plates. To remove or change this plate is against the law. This regulatory plate specifies the total weight that the vessel can carry, its maximum horsepower, and the maximum number of passengers it should accommodate.
2. Monterey
Next on our list of boat brands to avoid is Monterey boats. For more than 30 years, Monterey has been building a wide variety of boats. These boats are of different styles, with lengths ranging from 19 feet to 34 feet. Many industry observers regard this brand as one of the top boat brands, putting them in the class of boat makers such as Four Winns and Sea Ray. However, some of its boat models have issues.
Hardware Issues
Monterey has boat models that have general hardware issues. These problems are typically located in small pieces of hardware and around latches. Monterey boat owners say that these latches don't open smoothly. There was even some hardware that is covered with rust. If someone is offering you a Monterey, it is wise to inspect its latches and general hardware.
Fiberglass Quality Is Not Consistent
Plenty of manual labor has to be exerted into the building of a Monterey boat because their hulls are made of fiberglass. With this type of boat, every piece of fiberglass must be laid out correctly. The resin used in bonding the fiberglass together must be mixed in the right proportion. Then the right curing time must be observed so that the whole structure will be strong.
But since the majority of the work is done by human hands, mistakes are bound to happen. If there are overlooked or ignored mistakes, you will end up with a fiberglass boat that is good at one place and bad at another.
These mistakes may go unnoticed for a while. But they will be exposed later on when the boat is already out on the water. Structural issues could develop. Most often, such issues will lead to very costly repairs. Only a professional boat builder can spot this issue before they can grow big. Thankfully, this problem is not so prevalent in Monterey boats.
Finding Replacement Parts May Be Difficult
There were a few accounts of owners who experienced difficulties in finding the replacement parts for some hardware in their boats. This is somewhat odd since Monterey is still actively building boats. It is also easy to contact this company as well. In other words, this issue is not very common.
3. Luhr
Luhr has been building boats for more than 60 years. During its popularity, it employed 400 people in its headquarters in St. Augustine, Florida, USA. Sadly, they are already out of business. It was the recession in 2008 that forced the company to close shop. Its owners tried to revive it in 2012. However, its boat-building activities didn't last. So, here are the issues with Luhr boats and why they are one of the worst boat brands.
Luhr No Longer Build Boats
You can only find used Luhr boats because this boat maker is no longer building these boats. This situation creates a problem for those who purchased Luhr boats years ago and those who want to purchase used boats today.
Since the company no longer exists, if you buy a used Luhr boat, you will have no support from the company. Even their official website has already been taken down.
No More Replacement Parts
Owners of Luhr boats have another difficult situation to face. If some parts of their boats need to be replaced, they will have a problem. Since the company is no longer operating, it will be difficult to find the exact replacement parts.
They can buy used or aftermarket parts, though, but they are not as good as the original replacement parts. One good thing about this is that Luhr has produced many boats all these years. Perhaps they will still be able to find original albeit used parts.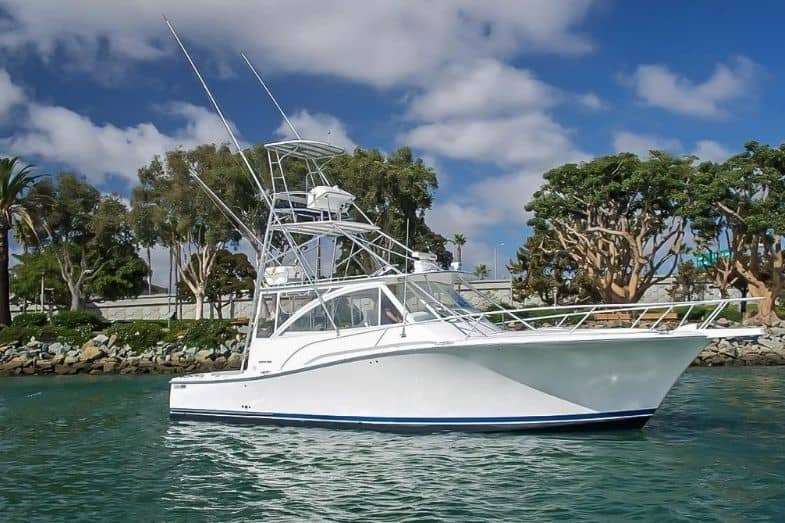 Some Accessory Parts Are Not Sturdy
Some parts and fixtures of Luhr boats are made of plastic. They are not strong and can easily break. To forestall replacement, boat owners need to observe regular preventive maintenance on such parts – which would mean extra expenses.
Not doing so will result in more expensive repairs or replacements, considering that the company is no longer operating. Finding these parts will be difficult. Boat owners may be forced to fabricate these parts, which will be more expensive.
4. Kingfisher
Another brand on our list of boat brands to avoid is Kingfisher. Kingfisher has been operating for more than 60 years. 29 Kingfisher boat models are currently available in the market. You can find them from boat dealers in California all the way to Alaska. These boats are good, but they also have some issues, which is why they are one of the worst boat brands.
Noise
Kingfisher uses aluminum to build its boats. These boats are strong since their aluminum parts (mainly the hull) are welded together. However, aluminum causes the boat to be noisier compared to a fiberglass boat.
You won't notice the noise when you are out there cruising in the ocean. But you will definitely hear it when you are navigating your way out of the marina. To mitigate the noise, limit yourself to Kingfisher boats that are adequately noise-insulated.
Low Sides
Many owners of Kingfisher boats agree that they have low sides. When a boat has low sides, it can be easily swamped with water. Once the boat is swamped, it can very easily sink.
Thankfully, Kingfisher boats have self-bailing decks. These boats are built in such a way that the water will get drained on its own. This feature may even be an advantage because the water that swamps off the sides of the boat will clean the deck, saving you some cleaning time.
Pontoon Boat Brands to Avoid
Are there any pontoon boat brands to avoid? There are no current pontoon boat brands I would avoid. Anything built in the last few decades has passed relevant safety ratings because they were built with the highest standards.
However, some believe that anything built by Genmar Marine, an association of boat makers, is suspect. What's the reason? They say many boat makers associated with Genmar Marine are not solvent anymore.
So when it comes to pontoon boat brands to avoid, I don't advise any specific brand. However, use caution if you are considering a pontoon boat made by Genmar Marine, as they are in debt and have had quite a few negative reviews in the past. They also are not too reliable for support if needed.
Conclusion: Worst Boat Brands
So, to summarize everything and to answer the question: "What boat brands to avoid?" Based on boat owners' real-life experiences, the following boat brands tend to develop certain issues. These brands include Bayliner, Monterey, Luhr, and Kingfisher.
Not all vessels made by these boat makers are inferior. Unfortunately, according to reports, they have certain boat models that develop issues that you should be aware of as a boat buyer.
When it comes to pontoon boat brands to avoid, I don't have a specific brand to avoid. However, use caution if you are considering a pontoon boat made by Genmar Marine as they have received several negative reviews and are not a good company to rely on for support.
Related reading:
Boat Won't Go Over 3000 RPM Under Load [Causes and Solutions]